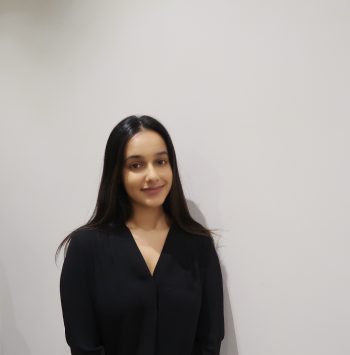 OVS Alum Returns to Teach the Next Generation of Students
With an Honours degree in Biology from York University and a Master's degree in Education from the University of Toronto, Anisha Aggarwal has had what one could call a successful academic career. Ontario Virtual School is honoured to be able to say that we were part of her academic journey:
"I was interested in taking Grade 12 English in summer school to reduce my course load during the school year. I had heard great things about OVS and decided to take ENG4U with them. It was my first opportunity to learn from home."
OVS's unique self-paced model and pre-recorded, yet fully narrated multimedia lessons gave Anisha more control over her educational schedule. As an education-driven individual, it wasn't just the convenience and control that led Anisha to choose OVS, it was the modern, forward-thinking approach to education.
"I was intrigued by the school's vision in operating using a student-centred approach."
Of course, this was a big decision for Anisha. Like many prospective students, she wasn't sure what it would be like to take a course entirely online. She was concerned about whether she would receive the same level of support from the OVS team as she would if she took the course through a traditional day school. Her fears were laid to rest by OVS's dedicated Student Success team who made sure she was properly supported throughout her academic journey.
"Although OVS encourages independence and self-guidance in their students, I was consistently supported by my course instructor, who was always available to answer my questions and provide me with feedback."
OVS prides itself on our enthusiastic and helpful instructors, so we are very excited to welcome Anisha not just to our list of alumni, but our staff as well! Through our 10+ years of operation, this is the first student to have come full-circle with OVS and we couldn't be prouder! We are sure that Ms. Aggarwal will help her students find the same success she was able to earn for herself not so long ago!
We asked Anisha, or perhaps we should say Ms. Aggarwal now, what made her decide to return to OVS. What made her decide to dedicate her skills and years of education to our school, in particular:
"I believe that OVS does a great job at preparing students pursuing post-secondary education, as online learning is a standard practice in many universities and colleges. Taking ENG4U online with OVS in high school prepared me to comfortably engage in these programs that heavily emphasize online and self-guided learning."
We are thrilled to have such a forward-thinking educator choose to work with Ontario Virtual School and look forward to having her join our efforts to provide students with a quality 21st century education!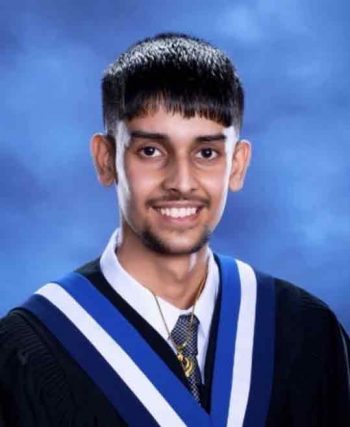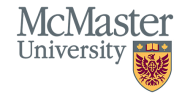 "One of my future long-term goals is to run for either Member of parliament or provincial parliament. I truly want to give back to the community that helped me become a person I am today."
A community-minded person, Pvitar is proud of his roots. "BRAMPTON BABY… BORN AND RAISED!!" He's thankful for the opportunities his community has afforded him in life.
"I believe I was raised in an amazing environment, and I love helping others. This is one reason I participate in various community organizations, such as the SEVA food bank."
This love for his community drives him to work hard and make sure he can make a positive difference in the world.
This love for his community drives him to work hard and make sure he can make a positive difference in the world.
"I truly want to give back to the community that helped me become a person I am today. Being a politician is part of a larger goal of becoming the premier of Ontario. As the premier, I would want to improve the education and healthcare system in Ontario."
Pvitar knows this is a lofty goal, one that would take a lot of hard work and careful planning. But Pvitar has been planning his future and working toward it for a long time. From childhood summers working on his father's farm, to his upcoming studies at McMaster University for their Business One program, Pvitar has consistently taken steps to make sure that he is always pushing himself to further success.
"I don't watch many movies because I believe I just end up wasting valuable time doing nothing."
That drive to make the most of his time brought Pvitar to OVS, where our Learning Management System allowed him to balance his education with his employment while he earned credits for two Grade 12 courses, Mathematics of Data Management, and English.
"I currently work at a warehouse in which I drive a forklift. The online platform let me work at my schedule and gave me the initiative to balance my time wisely."
With this freedom and control over his own studies, and his own time, Pvitar was able to make the most of his time, and not only to achieve, but to exceed his academic goals.
"As of today, I can gladly say I got into all the programs I applied to. This includes Laurier (BBA), Schulich (BBA) and McMaster (Business One)."
Pvitar is well on his way to success, and we here at Ontario Virtual School are proud to count him among our alumni.
"Ontario virtual school was a creative platform that allowed me to excel due to my ability to choose when to work on it. Teachers were friendly and went out of their way to help. I would highly recommend Ontario virtual school due to my experience!"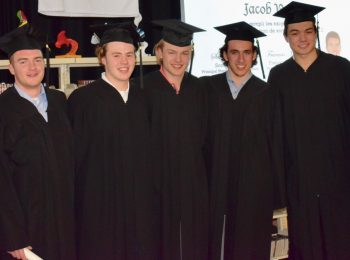 Left to right:
Jacob Poirier accepted: (Concordia University; John Molson School of Business, University of Montreal-HEC; Waiting for McGill and Ottawa)
Mathieu Lapierre (Currently at Concordia University-John Molson School of Business)
Raphael Lajeunesse (recruited in the USPHL)
Pier-Luc Céré: Accepted: Concordia University; John Molson School of Business; University of Montreal-HEC; waiting for response from Ottawa).
Micael Leblanc: Concordia University; John Molson School of Business; waiting for Ottawa response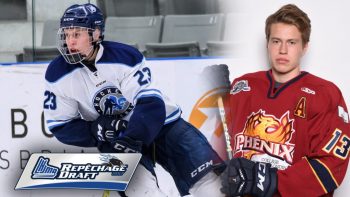 OVS and NPU student Samuel Poulin is the son of former NHLer Patrick Poulin. Samuel has spent time representing his country. , Poulin joined Team Canada at the IIHF Under-18 World Championship. He put up one goal and one assist in seven tournament games as Canada finished 4th. He was also part of Team Canada's Hlinka-Gretzky winning team, putting up one assist in five games. He was drafted 21st overall by the Penguins in the first round of the 2019 NHL Entry Draft. Congratulations Samuel!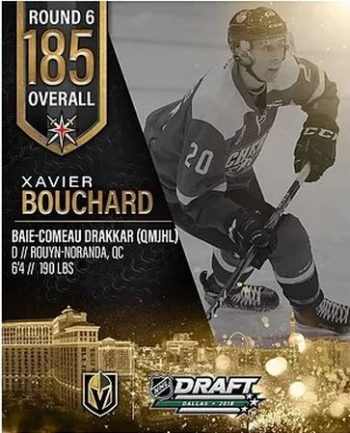 Congratulations to OVS and NPU student Xavier Bouchard who was drafted by the Las Vegas Golden Knights!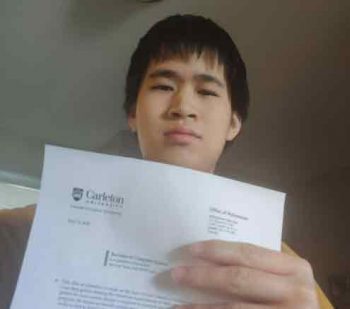 Yujiu Wang is a normal high school student. He enjoys chilling with friends at the bubble tea shop. He likes to have fun and stay fit by cycling. He unwinds by playing video games and watching superhero movies and anime. And like most high school students, he is concerned about his future. High school is a time of transition, and as Yujiu approaches graduation, he is getting ready for a particularly important transition in life: his post-secondary education.
Yujiu knew he wanted to apply to Carleton University, in his hometown of Ottawa, but being based in our nation's capital, Carlton is quite a prestigious institution. Yujiu knew he'd needed to do very well in his Grade 12 courses in order to be accepted. Of course, Yujiu knew he had the brains, and all he needed was the ability to show off his skills and knowledge, the ability to take control of his education and manage his schedule in a way that works for him. A way that wouldn't require him to put his whole life on hold in order to do his best and reach his highest potential.
Yujiu enrolled with Ontario Virtual School, taking our Grade 12 Advanced Functions course. Now he was able to learn the material from this important but challenging course wherever and whenever he wanted. He could move through it at his own pace, as fast or as slow as he liked. He notes some highlights from his experience with OVS.
"Quick help and assessments from my teacher, Ms. Reddy, and staff members, Ms. Mullins and Mr. George. Remote education that allows me to learn wherever I want. High flexibility in my schedule."
With his helpful instructor, and ability to control his own schedule, Yujiu was able to achieve the high grades he needed to apply to his desired university programs, and achieved his goal of receiving an offer to attend Carleton University. As he moves forward into his bright future, we asked Yujiu what he would tell any friends who may be thinking of taking a course with OVS.
"This could be an opportunity to earn grades for future education."
With his forward thinking attitude, and drive to plan ahead and do what needs to be done to achieve his goals, we're sure Yujiu will find great success in life, and we here at Ontario Virtual School are very proud to count him among our alumni.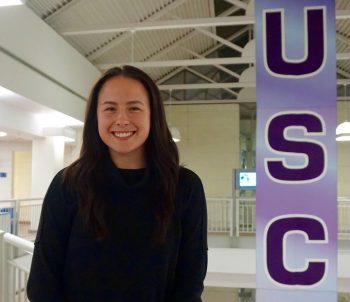 Western University – Sociology and French Studies
Future goals: Social Worker
How did OVS help you move closer to your goals? OVS allowed me to successfuly complete my OSSD and enter Western University.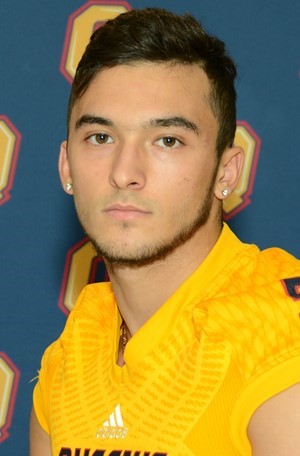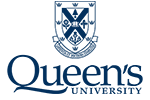 I am currently in my fourth year at Queen's University studying economics.
Future Goals: I am in the process of writing my LSATs for next year's law school admission.
I also played football for Queen's University. I received an athletic scholarship (up to $4500 annually) while receiving an annual bursary of $2800.
Scholarships received: First year I received a $2000 admission bursary for my grades in high school.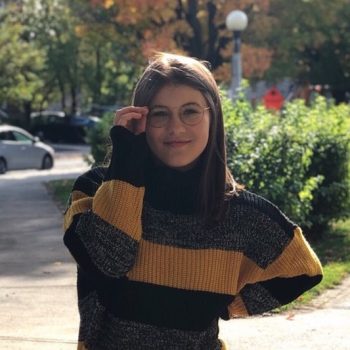 Carleton University, 3rd year, undergraduate law & legal studies program.
Future goals: To go on to law school at the University of British Columbia, and work as a prosecution lawyer for the BC government.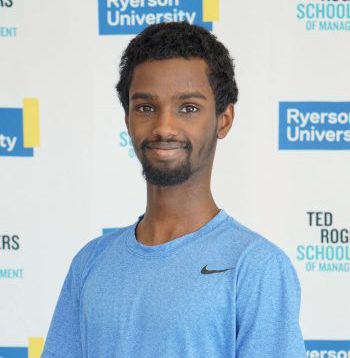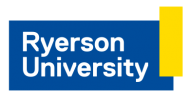 Ryerson's School of Business Technology Management
Future goals: IT consulting for major corporations
Scholarships you received: SAG award scholarship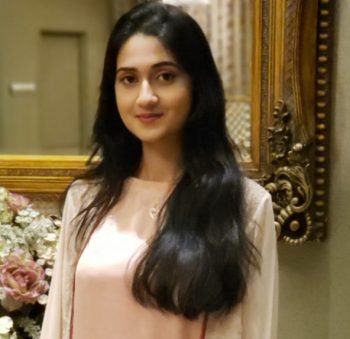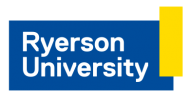 Ryerson university in the occupational and public health program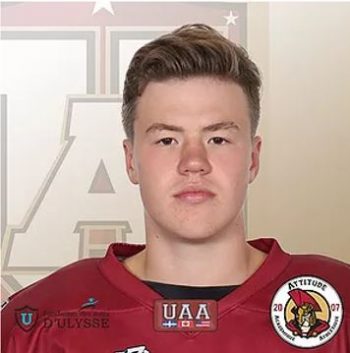 OVS and NPU student Mathieu Lapierre is headed to Concordia University's John Molson School of Business. Congratulations Mathieu!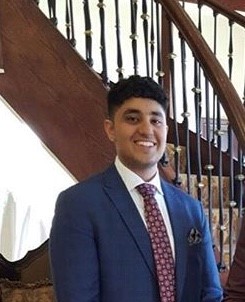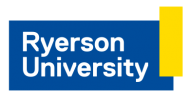 I am at Ryerson University working towards a Bachelors degree in Business Technology Management
Future goals: My goal is to become an IT Consultant with a large company, and eventually opening up my own IT consulting business.
Scholarships you received: I received a $500 scholarship from York University, $2000 from Guelph, and $1000 from Ryerson.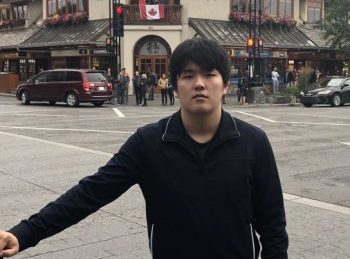 Commercial Aviation Management Program at the Western university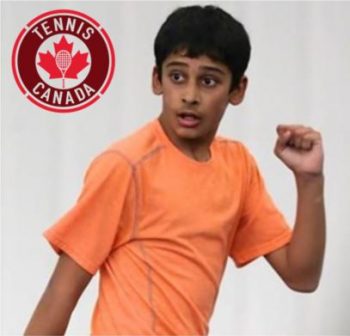 OVS student Kirtan Patel has been representing Canada at the ITF World Tennis Tour and gaining ranking. Good luck Kirtan!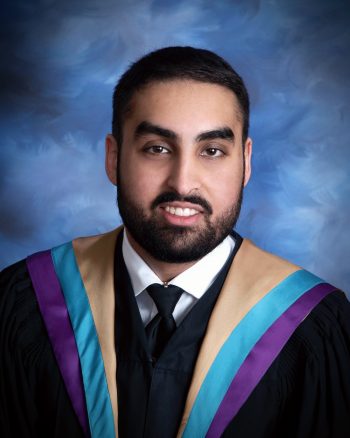 Future goals: After graduation, I plan to pursue my CFA designation. I have taken the necessary steps at Laurier to ensure my success with this goal.
Scholarships you received: I received an entrance bursary during my first semester due to having a 90% average upon acceptance.
How did OVS help you move closer to your goals: OVS was essentially responsible for teaching material at a very high level which resulted in me achieving a 90% overall average. This evidently led to my acceptance at Laurier and receiving the scholarship. The content learned at OVS also helped me dramatically, it was relevant content that I used throughout my 4 years at University.