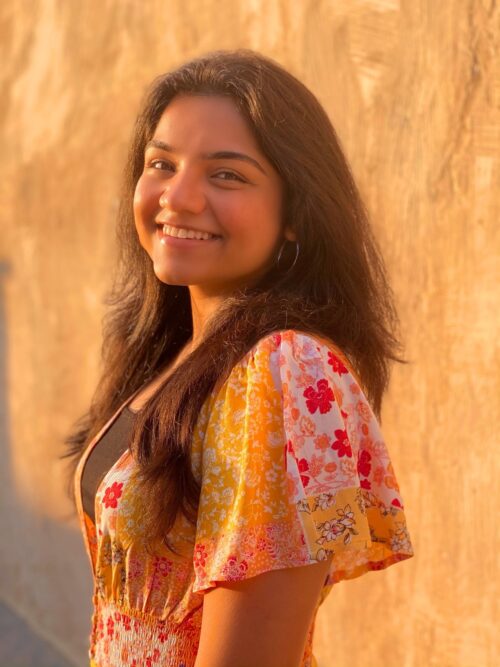 Anisha Giridharan works on her OSSD from 12,000 km away!
An Ontario Secondary School Diploma (OSSD) is a very useful tool for any young graduate to have. As one of the world's more prestigious secondary school systems, the OSSD gives students that added edge when applying to colleges and universities around the world. In particular, the ability to earn an OSSD from anywhere in the world is a huge advantage for international students looking to attend post-secondary in Canada. As an OSSD-recipient, they are no longer forced to vie for highly competitive, highly-priced international student spots in the program of their choice. This is why, when planning for her own future, Anisha Giridharan chose to enroll with Ontario Virtual School.
"I know I want to pursue my post-secondary education in Canada. OVS seemed like the perfect way to earn an OSSD and reach my goal."
Anisha Giridharan currently lives in Oman, but intends to pursue post-secondary in Canada. Luckily, she discovered that, through Ontario Virtual School, she could earn a fully-accredited Ontario Secondary School Diploma and thereby increase her odds at reaching her post-secondary goals. OVS's entirely online platform has allowed Anisha to work towards her OSSD without having to leave her home – something that would have been particularly difficult over the past year.
"OVS, being a virtual school, gave me the freedom to study at my own pace. I could review the course content over and over again, which I think was my favorite part. There was no fixed schedule, which allowed me to spend more time on content I found difficult."
Last year, Anisha decided to enroll with OVS for all of her Grade 11 courses, including Functions, English, Physics, Chemistry, and Biology. In addition to the freedom to study at her own pace, Anisha has found many other advantages to OVS's unique model:
"Studying at OVS relieved me from all the stress of peer pressure which everyone experiences in their day school. Though I was glad that there were no deadlines for all assignments, I later realized that I submitted all my assignments earlier than I would in a day school due to my interest in their teaching methods."
After her positive experience in Grade 11, Anisha is currently continuing her OVS studies with a full-time course-load of university preparation courses such as Advanced Functions, Calculus & Vectors, English, Physics, Chemistry, and Biology.
"I am currently studying grade 12 at OVS as a full-time student and I truly wish I found out about OVS much earlier. I have had an amazing and successful journey with this school and I am excited to continue studying with them. OVS is a perfect platform to receive world-class education from the comfort of your own home, even if you are on the other side of the world!"
Our guidance team is currently tracking Anisha's progress towards graduation, and anticipates that she will complete all OSSD requirements by June 2021. She will then be issued an Ontario Ministry-inspected Secondary School Diploma and, we anticipate, will earn acceptance to the Canadian post-secondary institution of her choosing – joining 96% of other successful OVS graduates! We are delighted to have such a dedicated student in our graduating class!