Even as a mature student, OVS can help you achieve your academic goals, whether you're looking to earn your high school diploma, take necessary courses for a pathway change, or upgrade your marks for post-secondary admission.
Am I a Mature Student?
You are considered a mature student if:
– You are not currently enrolled in a high school; AND
– You have not attended high school for at least one year since turning 18.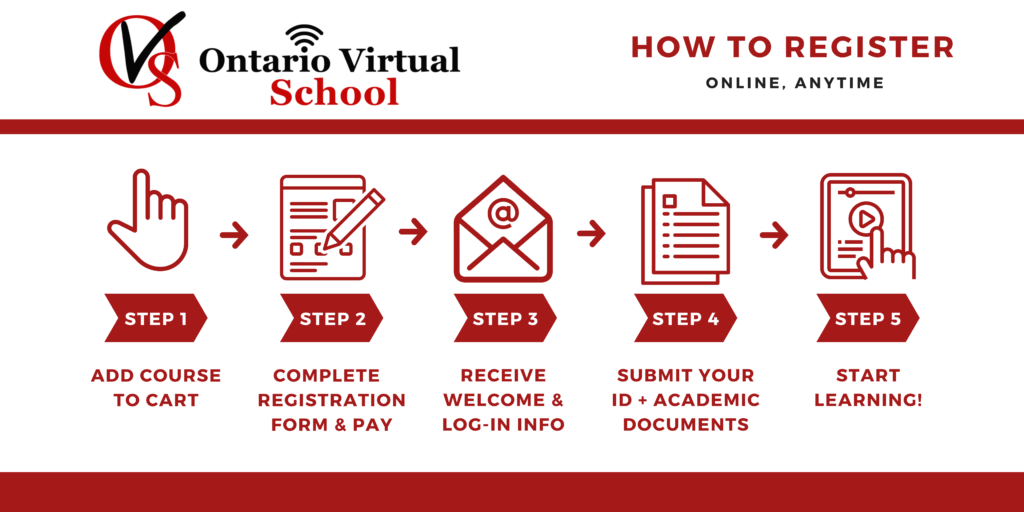 Once you have registered, please email the below documents to [email protected] for further counselling:
– Identification: a copy of your passport, driver's license, health card, or other government-issue photo ID
– Academic Records: Your most recent academic transcript, including any post-secondary documents
Continuing Your High School Education as a Mature Student
Earning high school credits through traditional adult learning centers can be time consuming and inconvenient for the mature learner's busy schedule. With Ontario Virtual School's flexible online format, you don't have to put your life on hold to complete our courses! Our asynchronous approach means you can watch lessons and complete coursework at anytime, day or night.
FAQs for Mature Student Registration
Can I take courses with OVS even if I have already graduated?
Absolutely! Whether you want to broaden your horizon or you need specific credits for post-secondary purposes, we can help.
I don't have the listed prerequisite for the course I need. Can you help?
If you are not sure if you meet prerequisite requirements for your chosen course(s), please email [email protected] with a copy of your most recent academic transcripts and proof of age. We will be happy to assess your previously earned credits and either pre-approve your prerequisites, or help you map out a path to the courses you need.
Can I graduate through OVS?
Yes! Mature students who have not received their Ontario Secondary School Diploma (OSSD) can graduate with OVS upon completion of all OSSD requirements. If you are interested in graduating through OVS, please email [email protected] with a copy of your most recent academic transcripts, as well as proof of age.
How will my post-secondary institution receive my OVS marks?
Our administration team will help you send your OVS marks directly to your universities or colleges. All we need is the admissions contact for the school and the student ID number they issued you when you applied.


OVS has helped many mature students achieve their academic goals.
Here are a just a few of their stories!