Even as a mature student, OVS can help you achieve your academic goals, whether you're looking to earn your high school diploma, take necessary courses for a pathway change, or upgrade your marks for post-secondary admission.
Am I a Mature Student?
You are considered a mature student if:
– You are not currently enrolled in a high school; AND
– You have not attended high school for at least one year since turning 18.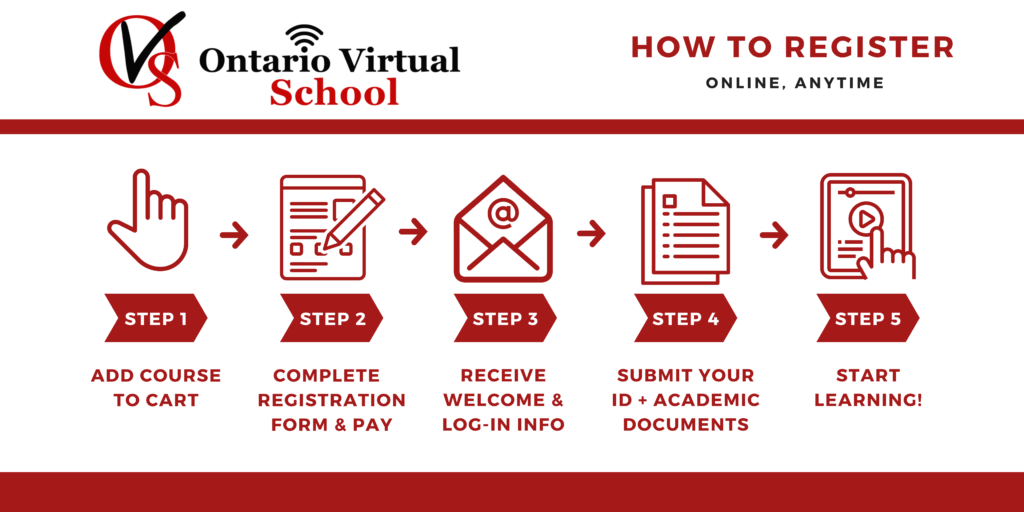 Once you have registered, please email the below documents to [email protected] for further counselling:
– Identification: a copy of your passport, driver's license, health card, or other government-issue photo ID
– Academic Records: Your most recent academic transcript, including any post-secondary documents
Continuing Your High School Education as a Mature Student
Earning high school credits through traditional adult learning centers can be time consuming and inconvenient for the mature learner's busy schedule. With Ontario Virtual School's flexible online format, you don't have to put your life on hold to complete our courses! Our asynchronous approach means you can watch lessons and complete coursework at anytime, day or night.
FAQs for Mature Student Registration
Open all FAQs
Can I Take Courses With OVS Even If I Have Already Graduated?
Absolutely! Whether you want to broaden your horizon or you need specific credits for post-secondary purposes, we can help.
I Don't Have The Listed Prerequisite For The Course I Need. Can You Help?
If you are not sure if you meet prerequisite requirements for your chosen course, please email [email protected] with a copy of your most recent academic transcripts and proof of age. We will be happy to assess your previously earned credits and either pre-approve your prerequisites, or help you map out a path to the courses you need.
Can I Graduate Through OVS?
Yes! Mature students who have not received their Ontario Secondary School Diploma (OSSD) can graduate with OVS upon completion of all OSSD requirements. If you are interested in graduating through OVS, please email [email protected] with a copy of your most recent academic transcripts, as well as proof of age.
How Will My Post-Secondary Institution Receive My OVS Marks?
Our administration team will help you send your OVS marks directly to your universities or colleges. All we need is the admissions contact for the school and the student ID number they issued you when you applied.
When Can I Start?
OVS offers continuous enrollment, meaning students can register and begin their studies with us any day of the year – including holidays! Access to course content is immediate upon receipt of payment. We do not require permission from the day school for student's to register*. Students have up to 12 months from the date of registration to complete each course. This model allows students to follow a pace and schedule that is convenient for them.
*Students registering for the Reach Ahead Program will require permission from their day school.
Is This Program Designed For Independent Study, Or Is There A Teacher?
Each student will be assigned to an OCT-certified teacher who will be available to support them as they work through course content. Teachers are online daily and are available to answer any student inquiries via email within 24 business hours. Teachers also host office hours, during which times students can expect a more immediate response.
How Will I Be Evaluated? Are There Tests Or Assignments?
All OVS courses include a variety of assessment types, similar to what you would find in a standard day school course. These include: tests, quizzes, essays, pre-recorded audio/video presentations, research projects, various written or media-based assignments, and final exams. With the exception of tests and exams, all assignments are entirely self-paced and do not have any specified deadlines.
Tests are timed, closed-book evaluations written independently in the student's home. Please note that OVS allows all students up to 4 hours to complete these 75-minute evaluations. During this extended time period, students must download, print, complete, and scan or photograph each page back into OVS's Virtual Test Centre for marking by their teacher. Tests do not need to be scheduled or completed on certain dates: it is entirely up to the student to decide when they are ready to begin. The timer will begin only once the test has been downloaded from our secure servers. For more information on how final exams work at OVS, please click here.
How Will You Transfer My Grade To My School?
Upon completion of an OVS course, students will use the "Gradebook" tab within their course portal to request their final report card. When doing so, they will confirm their main (home) school. OVS will then mail a stamped and sealed copy of the final report card directly to the school. Once the school receives this document, they will add the mark to the student's Ontario Student Transcript (OST) and Ontario Student Record (OSR), to be counted towards completion of the OSSD.
For senior students, OVS will also send midterm or final marks to the OUAC, OCAS, or directly to post-secondary institutions, as needed. Students use the report request function to make these additional requests. Documents will only be sent to these institutions upon request by the student.
OVS has helped many mature students achieve their academic goals.
Here are a just a few of their stories!