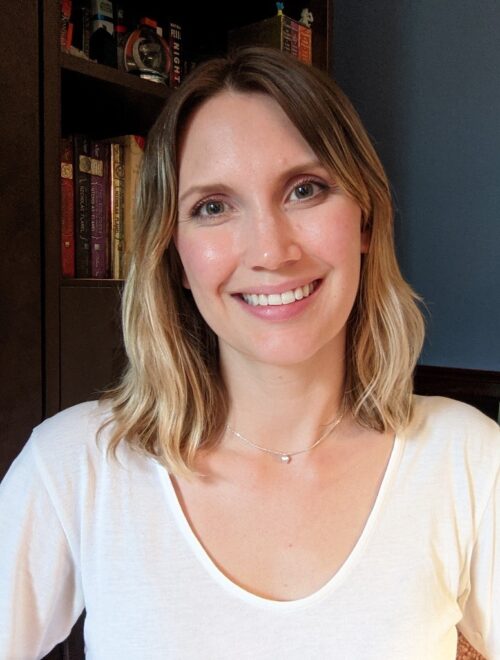 An Interview with Mature Student and Creative Writer Extraordinaire, Samantha Carly Kaszas
First off, tell us a bit about yourself, and what brought you to study with OVS.
Well, I'm a mature student who graduated with an Alberta high school diploma in 2009. I've never attended university before (or college for that matter), but have made some career changes lately and decided I would like to pursue a university education. The only thing is, I'd never completed the required courses to be eligible for entry. That's when I found OVS!



What courses did you take at OVS and why did you choose those courses?
I've been studying World History and Writer's Craft. I decided to take World History because I felt I needed a better understanding of the major events that led us to the circumstances we currently find ourselves in. It has really helped me to gain perspective on what's happening in the world right now. I chose Writer's Craft because I'm interested in developing a portfolio as a professional writer and wanted to develop my literary skills and body of work.
From your experience, what aspects of the OVS model stand out to you?
Definitely the flexibility. I work a full-time job and have personal creative commitments, so being able to study whenever I wanted was a huge bonus. The flexibility in program choice is also amazing and it is empowering to be studying something that I am passionate about. I also found that both courses allowed for a lot of free choice with the assessments. That was great because it's so much easier to spend time on something when you're allowed to select topics that are of interest. As a mature student who has been in the workforce for 11 years, I also really enjoyed that the courses related my learning back to practical application.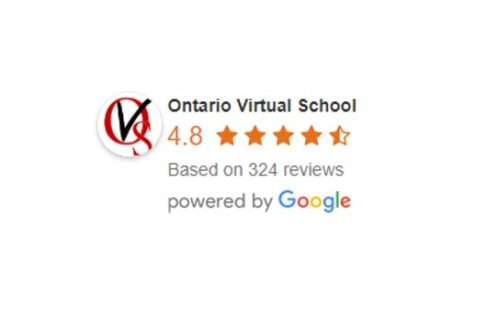 We're curious: what made you choose OVS over other e-learning providers?
After looking on the Toronto School Board website at the recommended online learning options, I was extremely disappointed by the horrible reviews. I also had a very bad experience with the customer service at these places. After a quick Google search, I was happy to find OVS. The reviews were all great, their student services team was very quick to reply and the registration process was seamless.
And how did your OVS experience align with your expectations?
I was surprised by the level of self-direction required. I thought there might be more "online classroom" type scenarios, but for the most part you are the one who is holding yourself accountable. The bonus is that compared to a day school experience, all of the distractions are gone and you are able to focus on your education and go at your own pace.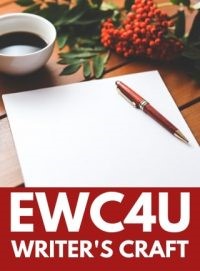 Our Writer's Craft course persuades students to enter writing contests. Did you?
Yes! I never would've started to submit my writing at this point if it hadn't been for the course and I am so happy I did. I started writing for a platform called Vocal Media and have been entering the contests on their site as a way to try different styles of writing and hold myself accountable to practice more.
That's excellent! And we hear you were successful in a few of the contests you entered?
Yes! I placed 1st in the Cozy Corner Challenge with my piece entitled, "A Creative Space". I also placed 3rd in the Sister Circle Challenge with my piece entitled, "To the Woman with the Heart of a Dragon", and 3rd in the Dream Home Challenge with my piece entitled, "'Honey, I'm Home!' Walking into a Dream".
The contests pay cash prizes, so I have been saving any money I have made from the site and putting it away for my university education. This is a source of income, not to mention a source of confidence that I never would've got without being encouraged by my OVS course and teacher, Ms. McDonnell.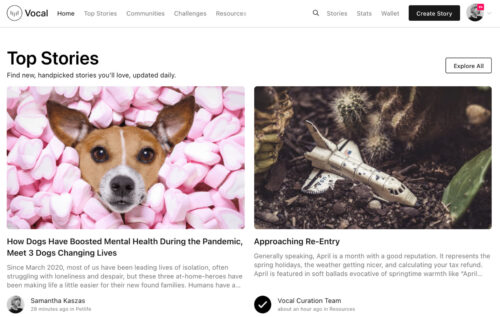 In fact, for my Unit 4 Summative Project in EWC4U, I used the opportunity to write something for a Vocal media challenge. My article, entitled "How Dogs Have Boosted Mental Health During the Pandemic", was selected to be on Vocal Media's front page, and was even shared on their social media channels!
Wow! Congratulations! You've clearly found great success in your creative writing pursuits. More academically speaking, do you feel that OVS prepared you for your future studies?
Absolutely! After having been out of school for 11 years, I was nervous about studying and completing assignments again. OVS has been a great stepping stone for me and I feel much more confident about pursuing post-secondary now.
We're so glad to hear that! Do you have any advice to share with students considering OVS?
Be ready to set deadlines and keep yourself accountable! Don't be afraid to reach out to your teachers for help with setting deadlines and completing the course on time, or for help throughout the course. At first, I was nervous, having never met my teachers in person, but eventually I started reaching out to them via email for help and there were very responsive and supportive.
Thanks so much for chatting with us! Last question, what is up next for you?
I've been accepted to two University of Toronto programs and a Ryerson program for Fall 2021. I have decided to accept the Ryerson offer and study the Creative Industries degree, with a focus on publishing and new media. I also plan to continue to write for Vocal Media and other freelance websites!
You can check out Samantha's full Vocal Media profile here!