Self-paced, accredited and 100% online!
Ontario Virtual School (OVS) is a private, Ministry-inspected online high school offering Ontario Secondary School Diploma (OSSD) credit courses in a fully online format. Our courses follow the same curriculum as Ontario day schools, and are accepted by all universities and colleges.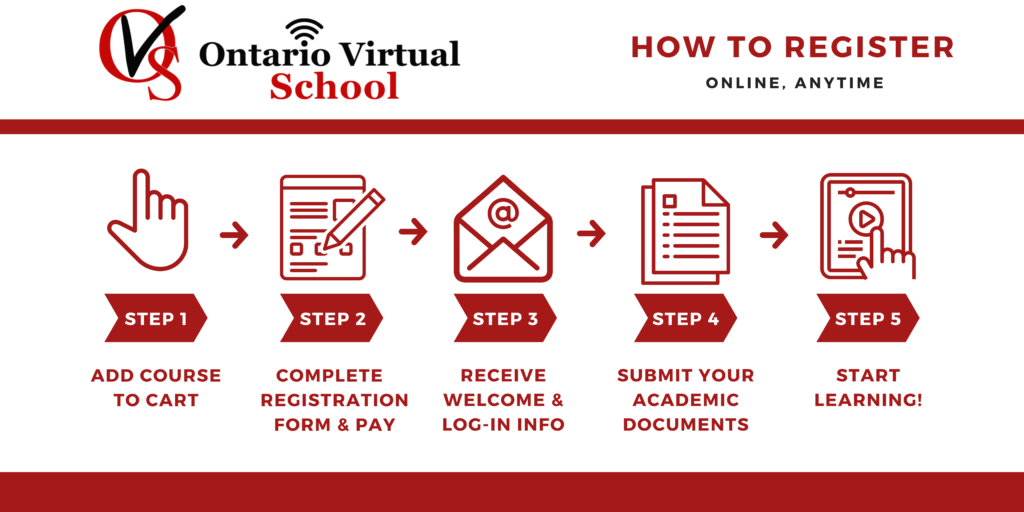 How does OVS work?
Getting Started: Upon registration, students will have 24/7 access to their online course for up to one year. Students access their course using any device of their choosing by entering the login details received in the initial welcome email on the homepage of our website. Once logged in, students will navigate our custom-designed, easy-to-use learning management system to access their lessons, assignments, and other course resources.
Lessons & Learning: All of our lessons are taught through pre-recorded multimedia videos, complete with teacher narration and interactive elements including self-check quizzes and Gizmos. Our asynchronous video-based format allows students to progress through lessons at whatever pace is optimal for their schedule and learning style. Lessons can be paused and re-watched as often as needed to ensure mastery of concepts.
Evaluations: All materials needed for the course are provided either directly in the lessons (e.g. readings, assignments, and homework), or in the "Resources" section (e.g. practice tests and exams). With absolutely no deadlines, you decide when you are ready to complete the unit evaluations. Once completed, simply submit them into the online Dropbox for your teacher to mark. All unit evaluations are completed independently in the home and submitted online.

Frequently Asked Questions