Self-paced, accredited and 100% online!
Ontario Virtual School (OVS) is a private, Ministry-inspected online high school offering Ontario Secondary School Diploma (OSSD) credit courses in a fully online format. Our courses follow the same curriculum as Ontario day schools, and are accepted by all universities and colleges.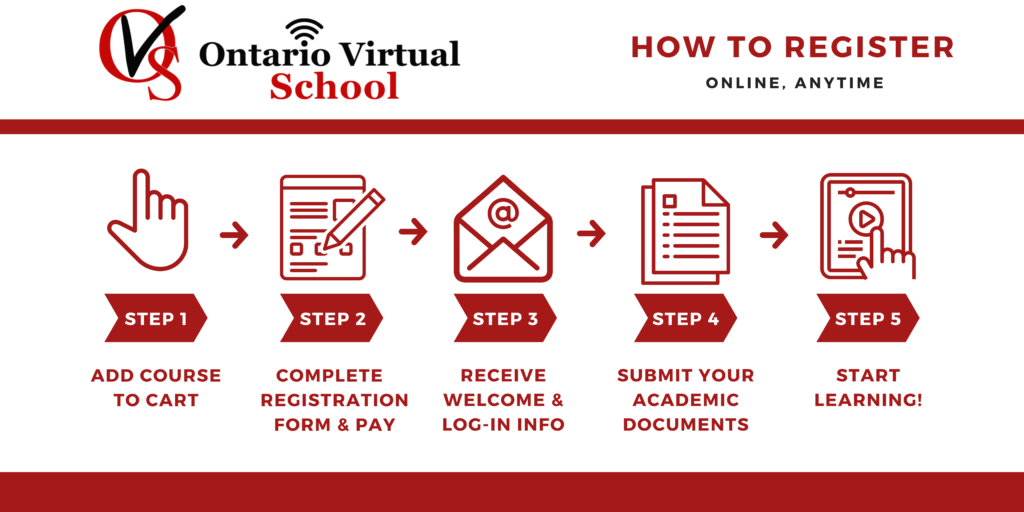 How does OVS work?
Getting Started: Upon registration, students will have 24/7 access to their online course for up to one year. Students access their course using any device of their choosing by entering the login details received in the initial welcome email on the homepage of our website. Once logged in, students will navigate our custom-designed, easy-to-use learning management system to access their lessons, assignments, and other course resources.
Lessons & Learning: All of our lessons are taught through pre-recorded multimedia videos, complete with teacher narration and interactive elements including self-check quizzes and Gizmos. Our asynchronous video-based format allows students to progress through lessons at whatever pace is optimal for their schedule and learning style. Lessons can be paused and re-watched as often as needed to ensure mastery of concepts.
Evaluations: All materials needed for the course are provided either directly in the lessons (e.g. readings, assignments, and homework), or in the "Resources" section (e.g. practice tests and exams). With absolutely no deadlines, you decide when you are ready to complete the unit evaluations. Once completed, simply submit them into the online Dropbox for your teacher to mark. All unit evaluations are completed independently in the home and submitted online.

Frequently Asked Questions
When can I start?
OVS offers continuous enrollment, meaning students can register and begin their studies with us any day of the year – including holidays! Access to course content is immediate upon receipt of payment. We do not require permission from the day school for student's to register*. Students have up to 12 months from the date of registration to complete each course. This model allows students to follow a pace and schedule that is convenient for them.
*Students registering for the Reach Ahead Program will require permission from their day school.
Is this program designed for independent study, or is there a teacher?
Each student will be assigned to an OCT-certified teacher who will be available to support them as they work through course content. Teachers are online daily and are available to answer any student inquiries via email within 24 business hours. Teachers also host office hours, during which times students can expect a more immediate response.
How will I be evaluated? Are there tests or assignments?
All OVS courses include a variety of assessment types, similar to what you would find in a standard day school course. These include: tests, quizzes, essays, pre-recorded audio/video presentations, research projects, various written or media-based assignments, and final exams. With the exception of tests and exams, all assignments are entirely self-paced and do not have any specified deadlines.
Tests are timed, closed-book evaluations written independently in the student's home. Please note that OVS allows all students up to 4 hours to complete these 75-minute evaluations. During this extended time period, students must download, print, complete, and scan or photograph each page back into OVS's Virtual Test Centre for marking by their teacher. Tests do not need to be scheduled or completed on certain dates: it is entirely up to the student to decide when they are ready to begin. The timer will begin only once the test has been downloaded from our secure servers. For more information on how final exams work at OVS, please click here.
How will you transfer my grade to my school?
Upon completion of an OVS course, students will use the "Gradebook" tab within their course portal to request their final report card. When doing so, they will confirm their main (home) school. OVS will then mail a stamped and sealed copy of the final report card directly to the school. Once the school receives this document, they will add the mark to the student's Ontario Student Transcript (OST) and Ontario Student Record (OSR), to be counted towards completion of the OSSD.
For senior students, OVS will also send midterm or final marks to the OUAC, OCAS, or directly to post-secondary institutions, as needed. Students use the report request function to make these additional requests. Documents will only be sent to these institutions upon request by the student.