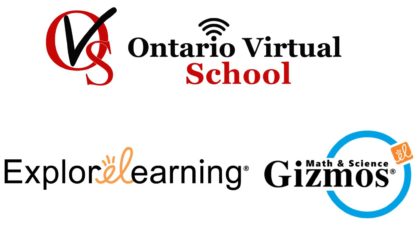 How does OVS stay ahead of the competition? By integrating Gizmos across our interactive e-learning platform in all Science & Math courses to help sustain our students' interest in course content. This innovative technology also helps to stimulate conversational, critical thinking, and problem-solving skills!
OVS Principal Bhogal, is very excited to partner with ExploreLearning and their Gizmo technology to meet our STEM initiatives. "Gizmos are very engaging for students. They encourage critical thinking and inquiry-based learning. Gizmos also allow for deeper understanding of math and science concepts, all the while assisting students in meeting the success criteria for their course(s)!"
Leading the way in innovation and self-paced learning, Ontario Virtual School remains dedicated to providing students with every resource and support system necessary for them to be successful in their individual courses. We also strive to meet the demands of the ever-changing technologically enhanced learning environment we have chosen to adopt. Bhogal adds, "working at your own pace is a major advantage in learning. Gizmos are a natural fit for our self-paced program. Students have the ability to start/restart and interact with the software at the level and pace they're most comfortable with. I'm sure each and every one of us at one time in our school life wished we had had such an opportunity. With Gizmo technology, OVS students needn't worry about making mistakes or running out of time during an experiment. I am confident this will lead to better participation, engagement, confidence, and achievement both inside and outside the school environment."
Fusing Gizmos into our lessons will guarantee students develop learning skills and work habits outlined in Growing Success (The Ministry of Education's assessment, evaluation and reporting policy). As they navigate through our interactive courses, ExploreLearning's Gizmo technology will help us towards our vision of empowering all learners through the use of technology so that they can experience academic success.