Part-Time Students include:
any student who is *not* looking to have OVS issue their diploma and who is registered at another school
students looking to take one or two courses through OVS while attending another school full-time (either in Ontario or abroad)
students looking to upgrade course marks through OVS (either while still in school or post-graduation)

Registering As A Part-Time Student:

Our flexible model means that the majority of our students are considered part-time.

Note that it is possible to register as a part-time student and decide at a later point to become full-time.
If you are already enrolled with OVS and would like to discuss becoming full-time, please call our office.

Full-Time Students

Full-Time Students meet the following three criteria:
You intend to complete all remaining requirements and earn your high school diploma (OSSD) through OVS
You are not currently enrolled at an Ontario day school OR you intend to withdraw your enrollment at your current school
You have completed, or will complete, at least 3 credits in a single grade year through OVS
Note: A student must register for a minimum of 3 credits before OVS will officially begin the transfer process. Students wishing to graduate through OVS without meeting this credit minimum will be required to pay an additional administrative fee.
Registering As A Full-Time Student: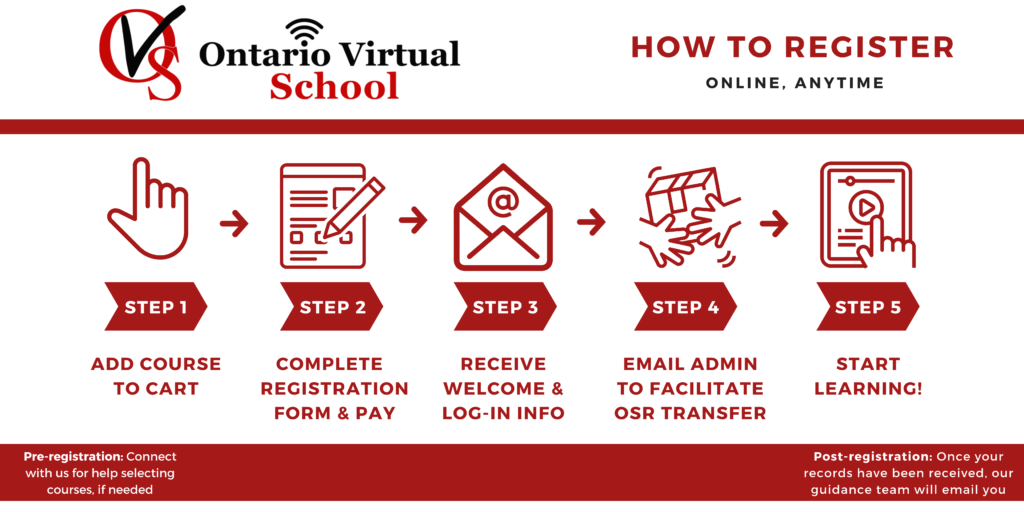 Full-Time Student FAQs
Don't see your question or situation outlined here? Feel free to reach out to our office to discuss you or your child's options for enrolling with OVS full-time. Our advisors are happy to help you make the transition to online-only learning!
OVS has helped hundreds of students earn their OSSD and achieve their academic goals!
Here are a just a few of their stories: