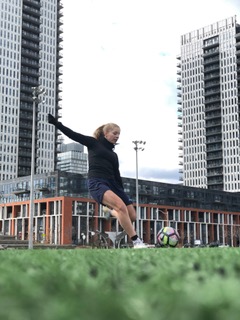 Meet Sarah Sparrow, a competitive football (soccer) player and a full-time Grade 11 student with OVS. We sat down with Sarah to ask her some questions about how learning online with OVS fits into her day-to-day life as an elite soccer player!
Why did you decide to complete your OSSD through OVS?
With my busy football (soccer) schedule, I was finding it difficult to make it to all my classes and training sessions, and also get enough sleep! OVS allows me the flexibility to work with my trainer in the day time or when I'm invited to train with teams, and do the school work when it is convenient for me. When I suffered a serious injury in late 2020, being with OVS meant I could take a break from school during the toughest part of my recovery, and now I can be flexible with attending physiotherapy or surgeon's follow ups in the daytime, without missing school. I like that I can do classes from anywhere, and whenever it is convenient for me.
As a full-time student, how many courses do you prefer to work on at a time? Why?
I like to work on 3 at a time. I usually pick one "hard" course and then balance that with something I find easier. This gives me the space to think about each course properly, while also working a part-time job and training. I work through a 3-class group over 3-4 months, and don't take a "summer break", meaning I keep working year-round and am on track to finish school a bit early.
How do you maintain balance between your academic, social, and extra-curricular pursuits?
A schedule. I set deadlines for when I will do work, and do my best to hold myself to them. I use my part time job as a motivation to use my time productively, because it forces me to have a set amount of time to get my school work done, which makes me much more productive.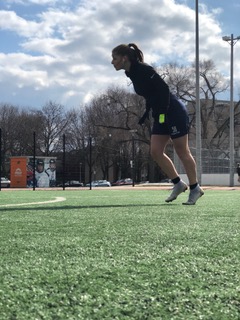 What are your favourite parts of learning with OVS?
I can do a lot of lessons in a row if I want, or do them late at night or early in the morning. I can also do lessons when I'm traveling for soccer tournaments or training, which is great.
What aspects of the OVS model stand out to you?
I like the ability to do school work at my own pace. For some subjects I like to go more quickly, and for others I can take my time to make sure I really understand it before taking a test or handing in an assignment.
What advice would you share with students looking to take courses online?
Be sure that you are able to manage your own time, and that you have support in place. Otherwise, the workload will pile up and it will bite you.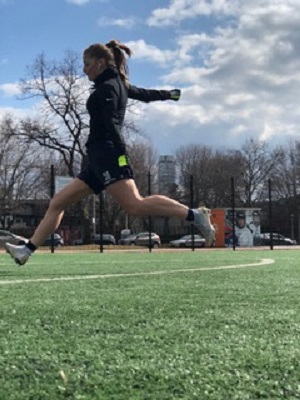 What are your academic/professional intentions in the near future?
I will be going to the UK at the end of this year for professional trials with Women's Super League teams in hopes of starting my professional career. I will also be going to university in the UK to study Sport Business Management for football, with the long-term goal of being a manager in the professional game, after a lengthy playing career.