Through OVS, international students can:
Work from their own home, any time of day or night
Take any OVS course without a study permit
Take Canadian high school courses from anywhere in the world
Earn a Canadian Ontario Secondary School Diploma (OSSD)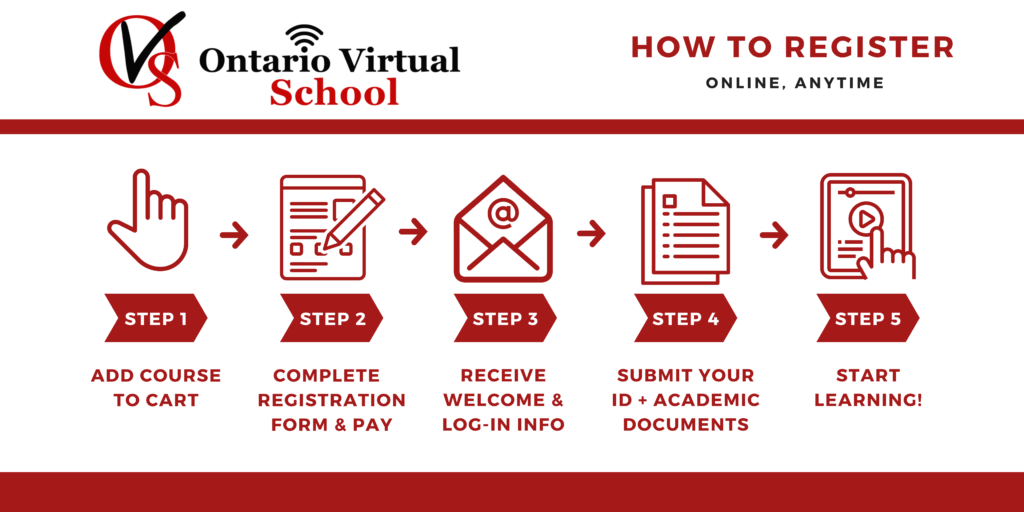 Once you have registered, please email the below documents to [email protected] for further counselling:
– Identification: a copy of your passport, driver's license, health card, or other government-issue photo ID
– Academic Records: Your most recent academic transcripts, officially translated into English, if applicable
Fee Breakdown for International Registrations
Tuition
Visa students

$799/course for Grade 11/12 courses
$699/course for Grade 9/10 courses
$649/course for Grade 7/8 courses
$799/course for ESL courses
$549/course for Careers & Civics

International students

$1199/course (for all courses, including ESL)

Course Extensions beyond 12 months

$200/course for a maximum 3 months extension.

Course Change fee
OSSLT Fee – $200
For students taking the standardized Ontario Secondary School Literacy Test through OVS, a fee of $200 will be applied.
Entrance assessment for incoming grade 12 students Fee – $300
All students starting with OVS in their grade 12 year will be required to subject based assessment tests.
Carrier mailing Fee
Based on actual mailing costs.
Administrative Fee – $300
Assessment of prior learning
Setting up/transferring the OSR
Assigning an OEN
Issuing the Ontario Secondary School Diploma (OSSD)
Applying to post-secondary institutions
Student Testimonials
Students from all over the world have found success through OVS! Read their stories here:
Testimonial of A Successful OVS Student from India
My first choice was to do my undergraduate study in Canada; in grade 12 I was studying in Punjab, India in the C.B.S.E Board's medical stream. When I realized that I have to complete a grade 12 math course in order to receive admission in a B.Sc. program at a Canadian university. This was a difficult predicament for me, either I had to study one more year to complete the Grade 12 math course or I had to forget about studying at a Canadian university. Then one of the university advisers showed me the path; Ontario Virtual School. Now, I have completed my Math requirements through Ontario Virtual School. In the end, I was accepted to all of the universities I applied to in Ontario in same year. – Manreet Singh Boparai
Manreet has given OVS permission to show his acceptance letters and OUAC profile showing his acceptances for all applied institutions.
If you are ready to get started, please email your current school records to [email protected] for review. Our guidance team will connect with you for additional support and next steps. We look forward to getting you started with OVS!