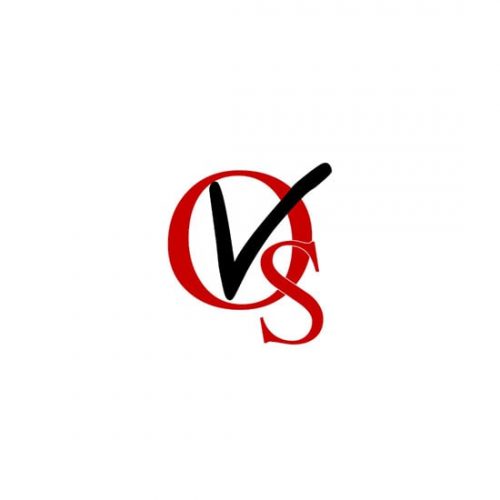 OVS Helps Eman Fatima Overcome Unforeseen Obstacles to Earn her OSSD from Pakistan
At Ontario Virtual School, we pride ourselves on providing not only quality education, but accessible education. Among the many advantages of an online school model is the fact that students can access their education without having to attend a physical building each day. At OVS, we have witnessed the unfortunate reality of bright minds missing out on a quality educational experience due to unavoidable complications in their personal lives. This was the case for one of our recent graduates, Eman Fatima.
Two and half years ago, Eman attended a brick-and-mortar Ontario high school and was progressing towards graduation. Then, unforeseen events required her to temporarily leave Ontario to become a full-time caregiver for her grandmother in Pakistan. These obligations took Eman halfway around the world from her Ontario day school, jeopardizing her ability to graduate in the timeline she had set for herself. Yet, Eman was determined not to let this happen, as she had high hopes of attending an Ontario university in the Fall of 2020.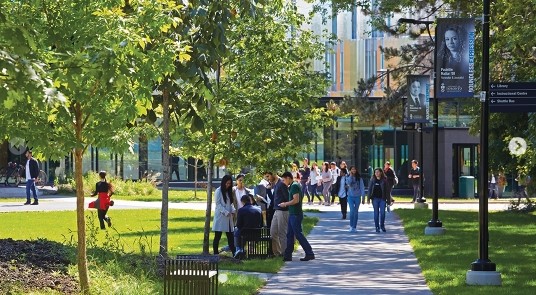 Luckily, Eman discovered Ontario Virtual School, where she was able to not only continue earning Ontario Secondary School credits while abroad, but to do so entirely at her own pace – something Eman appreciated since her day-to-day schedule could not be predicted during this period.
In order to keep her plans for attending university on schedule, Eman enrolled with OVS as a full-time student and had the administration team transfer her existing records and earned credits to the online system. She registered for all her remaining courses through Ontario Virtual School, including Grade 11 Accounting, Chemistry, English, and World History, and Grade 12 Chemistry, Biology, Physics, English, Advanced Functions, and Calculus & Vectors.
Now, this is undoubtedly a difficult course load, but with OVS's unique Learning Management System, Eman was able to work through these courses at times that fit her schedule. She was also afforded the option of pausing, rewinding, and even fast forwarding through lessons, allowing her to work through content that gave her trouble more slowly, then make up that time by accelerating through topics she was comfortable with. As a result of this flexibility, Eman was able to successfully complete her challenging course load and earn her Ontario Secondary School Diploma on schedule.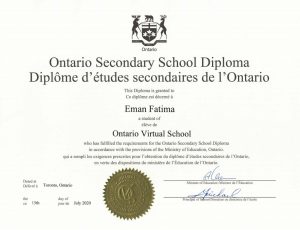 With this milestone completed and an excellent overall GPA, Eman was accepted to The University of Toronto's Life Sciences program. Since starting her studies in Biological Sciences and Neuroscience this Fall, Eman told us how her experience in e-learning with OVS has helped her greatly, as her courses are now mostly online due to ongoing COVID-19 precautions. In spite of these ever-changing times, we here at OVS know that Eman can handle anything that life throws at her, and are confident that she will continue to find success in her academic career.
Congratulations on overcoming the obstacles you faced and achieving your goals, Eman!