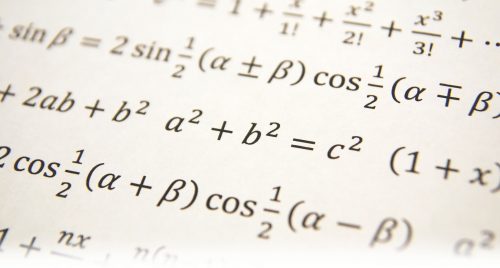 How OVS's Free Math Prep Course Helped Lynn Musembi Prepare for High School
Starting high school represents a significant transition in every young adolescent's life; one which can be daunting to many. Some subjects, in particular, like Math, are more anxiety-inducing than other. Fortunately, Ontario Virtual School has designed a series of free courses to help ease this transition to high school level coursework. Throughout 2020, hundreds of Grade 8 students have taken advantage of these free offerings in Math, basic learning skills, digital literacy, and mental health strategies.
Lynn Musembi is one such student, who enrolled in OVS's Grade 9 Math Prep Course earlier this year to help ensure a smooth transition to high school math this fall. Thanks to OVS's continuous enrollment model, Lynn was able to begin when she wanted to, rather than having to wait for the next semester to begin.
"I read numerous student reviews with my mom. I didn't come across any negative reviews, which reassured me, and my mom! After completing my course, I can firmly say that it [OVS] is truly the perfect place to take an online course."



Ontario Virtual School is a Ministry-inspected private high school offering Ontario Secondary School credits, entirely online. Although OVS specializes in fee-based, for-credit courses for Grades 9 through 12; this free, non-credit course series is open to anyone – regardless of age or experience. It is also a fantastic stepping stone for Grade 8 students looking to gain experience with e-learning, reinforce skills negatively impacted by COVID closures earlier this year, or potentially even lighten their Grade 9 course load by taking a reach ahead credit!
Once Lynn began her OVS1O course, she found many unexpected advantages to learning online with OVS. Through the process of working through the interactive, multimedia lessons, she learned the value of independent work and solidified positive study habits. However, although OVS operates with a self-directed approach, that does not mean help is not available when needed. For all OVS courses, free or paid, an OCT-certified teacher is only a click away – with email response guaranteed within 24 business hours and immediate response available during a teacher's posted office hours. All in all, Lynn feels the foundational skills she learned through this online course have afforded her a greater sense of confidence moving forward into high school.
"With OVS's help, I can proudly say that I'm able to work independently yet effectively whether it's at home or at school."
OVS's self-paced model also allowed Lynn to set her own pace and schedule, with the ability to pause, review, and fast-forward lessons – something she greatly appreciated when tackling a potentially troublesome subject like Math.
"Because it's independent learning – just me and the virtual teacher – I could decide if I wanted to dwell on one topic for a longer period of time than another. If I wanted to speed up the pace, there was nothing that stopped me from doing just that. If the work at hand was a bit harder to grasp all together, I could slow down!"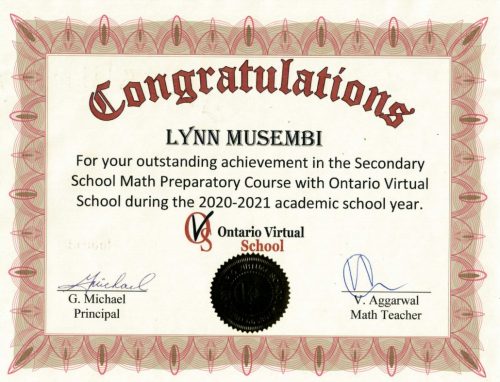 On behalf of all of us at OVS, we would like to congratulate Lynn, who earned her official certificate of completion for working through all assessments in OVS1O this summer! We are proud of your success and hope these foundational skills, both in mathematics and in independent, online study, will benefit you well as you make your transition to secondary education.