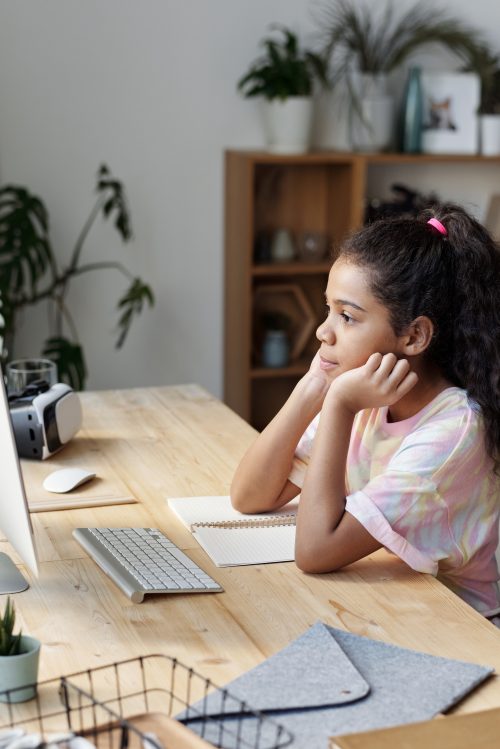 At Ontario Virtual School, we understand that every student has their own individual strengths and needs. That is why we strive to give students and their families as much control over their education as possible. We also recognize that the transition to high school can be stressful, for a variety of different reasons. As such, OVS is proud to offer Reach Ahead courses to help ensure that all students can reach their full potential throughout their academic careers.
What is Reach Ahead?
The official definition from Ontario Schools (2016, Section 2.5.2.1) states that:
Under exceptional circumstances, an individual student in Grade 8, with parental consent, may be given permission by the principal of a secondary school to "reach ahead" to take secondary school courses, either during the school year or in the summer prior to entering Grade 9.
Accordingly, Ontario Virtual School's Reach Ahead program allows students currently in their Grade 8 year, or who are in the summer prior to entering Grade 9, to register for and complete Grade 9 courses. Students, with appropriate permission, are eligible to earn up to three Grade 9 credits before actually entering their Grade 9 school year. This allows them to get a head start on high school, which can be beneficial in many ways.
Who Can Benefit from the Reach Ahead Program?
One might say that OVS's Reach Ahead Program can virtually benefit any student (pun intended)! From those who excel in academics to those who struggle in one or more subjects, to all kinds of situations in between, there is a wide range of students who can benefit from Reaching Ahead. Below are some of the most common situations we see at OVS and how they help students excel:
Academically-Inclined Students Seeking Early Graduation
The Reach Ahead Program can benefit students with a history of academic excellence, including those identified as Gifted in their IEP (Individual Education Program). By taking advantage of this opportunity, students can accelerate their high school journey. With one or more Grade 9 courses completed early, students can then proceed to taking a Grade 10 course. If they wish, students may continue this pattern to work towards an early graduation.
Students Who Struggle with Certain Subjects
On the other hand, the opportunity to reach ahead can also have great benefits for students who find themselves struggling with one or more subjects. For example, a student who is nervous about a particular required subject can use the Reach Ahead program to complete a course in which they are more confident. By getting these easier courses out of the way, they will then have more time to concentrate on the subject they find more difficult.
Of course, the reverse is also possible. If a student wishes to get a difficult course out of the way in the summer prior to grade 9, they can do so online. This can be a great option for students comfortable with e-learning, as it allows them maximal time to dedicate to their toughest subject.
In any case, whether a student chooses to reach ahead with an easier or more challenging course, those who take advantage of this opportunity will find themselves with an extra slot in their timetable come September, which can be used for additional focus and study across other subject areas. In this way, Reach Ahead allows for a more relaxed and confident Grade 9 year.
Students Pursuing Extracurricular Activities
Reaching ahead is also great for those looking to gain some added control over their schedule, perhaps to free up time for extra-curriculars. After all, it's been shown that participating in extracurricular activities can have many benefits for a student's well-being and future; however, it can be difficult to balance these extras with a full-time school schedule.
Reach Ahead allows students to dedicate more time to their extracurricular pursuits and frees up time spent on academic commitments that may conflict with extracurricular games, performances, or competitions. By getting a course or two out of the way early, students will not only have more time for the activities they enjoy, they will also have gained early access to the knowledge afforded by these courses, which can come in handy, both in extracurricular activities and in life more generally.
Students Looking to Take More Electives
By using reach ahead to complete a compulsory course early, students can free up a timeslot in their schedule. This would allow them to take an extra elective to enrich their academic experience. This means more courses in the day that they find interesting, leading to a more enjoyable overall experience! It also leads to more prerequisite requirements being satisfied for pursuit of alternate pathways in later grades.
Reach Ahead to Increase Your Academic Ability & Decrease Your Transitional Anxiety!
The transition from elementary school to high school is a stressful one for many students. To help make it easier, OVS recently unveiled our High School 101 course suite comprised of 4 free, non-credit courses to help students ease into this transition. For families that are a little apprehensive about tackling a reach ahead course online, we highly suggest taking one or more of these courses to help familiarize yourselves with the online medium and OVS's method of delivery. Then, once your learner feels confident, reach ahead on a for-credit course to reap one or more of the rewards we've discussed! After all, gaining early experience on the level of academic rigor expected for grade 9 can greatly ease the anxiety associated with the high school transition.
Reach Ahead Without Compromising Your Summer Plans!
The best part about taking the Reach Ahead Program through Ontario Virtual School is that you can capitalize on all these great benefits without compromising on your summer plans! By taking a course online in the summer before Grade 9, students are free to schedule their learning around existing plans, including camp, vacations, or just hanging out with friends and family. And with 24/7 access to course content, OVS allows you to reach ahead from anywhere in the world!
How Does OVS's Reach Ahead Program Work?
Enrolling in OVS's Reach Ahead Program is as easy as 1-2-3! Remember, in order to qualify, the student must be currently enrolled in grade 8, or be in the summer prior to their grade 9 year. Interested in signing up? Great! Just follow these three easy steps:
1. Download our Reach Ahead Request Form.
2. Complete the form, including parental consent and permission of either the current elementary school principal or the principal of the secondary school the student will be attending in Grade 9 (if known). Note: you must indicate which course(s) the student is permitted to take.
3. Submit the completed form, along with a copy of the student's most recent report card, and a copy of their birth certificate or passport to [email protected]
Our administration will follow up with you with 1-3 business days to confirm that everything is in order. Once approved, you can follow our standard registration process and get started the same day! Like all courses offered at Ontario Virtual School, reach ahead courses are taken on your own schedule, and at your own pace. This means students are eligible to complete a course in as little as four weeks, or take up to one full year to complete!
Take control of your education with OVS! Head over to our website or email [email protected] for more information. Let's start a conversation.