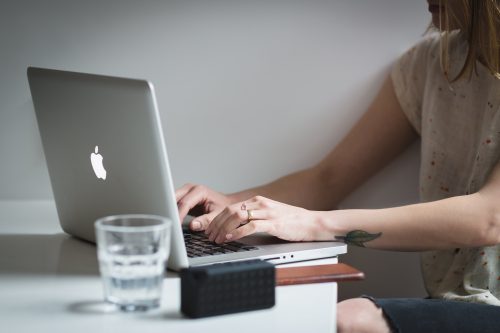 As we've noted before, skills are the bread and butter of resume building – the more you have, the better your odds of success become. And, while field-specific skills are important, employers also place great value on 'real-world' soft skills, which are far more difficult to teach. Want to know a great way to learn many of these desirable and widely applicable skills? Take an online course with Ontario Virtual School! You'll not only be earning high school credits, you'll be learning these 5 essential skills along the way, with virtually (pun intended) no extra effort.
#1 – Time Management
Unlike in traditional day schools, courses at Ontario Virtual School are entirely self-paced. Upon registration, students receive immediate access to their entire course and it's up to them to plan their study schedules accordingly. While this flexibility allows students to study at the times that work best for them, it also means that students have to develop strong time management skills to ensure that they are making time to complete their coursework within their self-decided time-frame.
Online learning also allows students to take advantage of spare time, with mobile-friendly learning management systems allowing them to watch lesson videos, read through assignments or contribute to discussion boards from their smartphones or tablets while on-the-go. This kind of early exposure to self-paced time management teaches adolescents how to make and meet personal deadlines and goals. This is a vital skill to have in the working world, as without adequate time management skills, even the most capable workers can fall behind or make critical mistakes.
#2 – Manners
Online learning, with its reliance on email as a primary method of communication, can actually help improve a student's use of proper manners. Whereas shorthand and slang typically rule the virtual domain, taking courses online reinforces the need for a particular level of email etiquette when communicating with instructors, administrators, and other students via discussion boards. This need to develop proper writing etiquette is a skill that will undoubtedly benefit students as they venture out into the world.
#3 – Initiative & Self-Discipline
Online courses rely on self-discipline and independent learning. Unlike traditional day schools, where teachers provide live encouragement and are there to monitor what students are doing in the classroom, online students are forced to develop their own self-discipline in order to get things done. This means that students must learn how to succeed without outside motivation and do the work without anyone watching them. This unique characteristic of online learning easily translates into successful real-life practices, as businesses often reward those who take the initiative in performing their duties.
#4 – Online Networking & Communication Skills
No matter what line of work you end up in, being able to communicate effectively is a crucial skill that all employers look for. The online learning environment, with its virtual classrooms and reliance on online communication, allows students to prepare for the modern reality of remote office arrangements where all communication and networking is done via email and video conferences. What's more, taking courses online allows students to adjust to the non-instant realities of distant communication and teaches them to communicate their thoughts appropriately and efficiently, without the aid of visual cues.
#5 – Prioritization
Students who take online courses often do so because they have other important things on the go, whether that be work, childcare, professional sports or arts, or simply taking a regular course load at a day school. While the flexibility online courses offer is undoubtedly one of their greatest benefits, it also essentializes the need for strategic prioritization on a daily basis. What's more, online students are the ones who must juggle their various deadlines and schedules, as there is no staff room where all of their various activity leaders gather to coordinate their assignments and requirements. Instead, the online student must take into account all aspects of their schedule and plan accordingly, allowing them to develop their ability to prioritize effectively.
Taking courses with Ontario Virtual School does more than just allow you to complete your high school diploma at your own pace, it teaches you many valuable skills that work to develop the kind of work ethic and skills that employers value. Simply put, online courses prepare students to work in an increasingly online world.
Ready to start your online learning journey? Sign up for a course today!