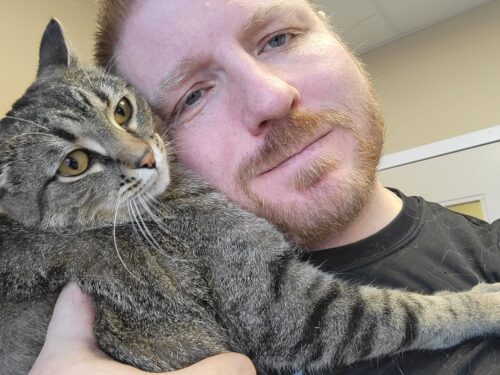 Mature Student earned credit to apply to College
Michael Gutsell is a part-time Mature student from Alberta. He needed to upgrade his Grade 12 English (ENG4U) mark for a college application. OVS was the only program he could find that allowed him to do the course entirely online and at his own pace. He says the course has made his English and writing skills much sharper. We asked Michael about his experience with OVS.
Why was your favourite part about studying with OVS?
The fact that I could do the course at my own pace. I work full-time and some weeks are busier than others. I was able to create a better work/school balance because I was able to set my own schedule.          
How did you find OVS differed from regular school?
I hated in-class high school courses. So much time in class and deadlines that didn't fit my lifestyle. The OVS course was great. I wish I had access to a program like this when I was younger.
What advice would you give to other students?
It might sound cliché, but it's important to have a goal and stay focused. I took this course so I could get into college and start a new career. For every assignment I reminded myself of my personal goals and gave my best effort. It worked. I got into every school I applied to.    
Where are you planning to attend post-secondary school?
I'm not currently in school but I will be starting at Medicine Hat College in their Bachelor of Applied Health Science Paramedicine program this fall.