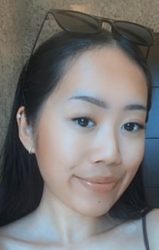 Keep reading for Amanda's story of how earning an OSSD online through OVS helped her get into her international university of choice!
The Ontario Secondary School Diploma is an internationally respected high school degree. A diploma from the Ontario Secondary School system signals academic excellence to employers and post-secondary institutions worldwide, and can provide students easier access to prestigious institutions around the world.
As a result of this prestige, many international students look to earn an OSSD, either in place of or in addition to their local degree. Naturally, this can be quite difficult to do through traditional means, as entering the Ontario School System typically requires moving to Ontario, obtaining a study visa and securing residence. Luckily, Ontario Virtual School helps students avoid these added complications, allowing them to earn a full OSSD from their home country – wherever that may be!
Amanda's Story
Two and a half years ago, Amanda Wijaya was a high school student in Indonesia with her sights set on enrolling at Ming Chuan University. She knew this would be no easy task, and was looking for an extra "edge". You see, each year, students from around the world seek admission at this prestigious Taiwanese institution, creating a very competitive admissions process.
To help Amanda's application stand out among thousands of international applicants, Amanda's Indonesian day school suggested she enroll with Ontario Virtual School. With OVS, Amanda would be able to study the Ontario curriculum and earn the well-respected Ontario Secondary School Diploma, without ever having to leave Indonesia. Amanda and her school were confident that an OSSD could serve as that extra edge Amanda needed to ensure acceptance at the school of her choice.
With her plan in mind, Amanda's school forwarded her existing Indonesia school records to the administrative team at OVS, who were able to grant equivalencies for coursework already completed at her day school. Amanda then enrolled in a number of courses at Ontario Virtual School, including Grade 10 Civics, English, and Career Studies, Grade 11 Biology, English, and Functions, and Grade 12 International Business, Challenge and Change in Society, Data Management, and English.
With Ontario Virtual School, not only was Amanda able to earn these credits and her OSSD, she was also able to improve her work performance, and decrease her stress with the additional flexibility and control offered to her through online learning.
"OVS gave me the time flexibility that my day school didn't provide. I enjoyed OVS very much."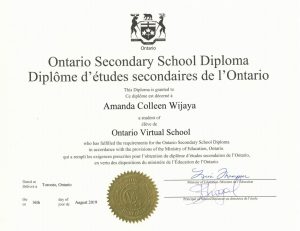 As she had planned and hoped, Amanda completed her Ontario Secondary School Diploma in a little over a year and was accepted to Ming Chuan University.
Amanda has been studying at the institution since 2019, and, as all of her former OVS teachers predicted, she has been excelling in all of her studies. Amanda, herself, credits this continued academic success to the comprehensive preparation provided by her OVS courses:
"The [OVS] courses have prepared me to the point where most of the materials I study today are things I have already studied in OVS."
On behalf of all of us at OVS, we extend our heartfelt congratulations to Amanda for achieving her academic goals. We wish you all the best in your future!