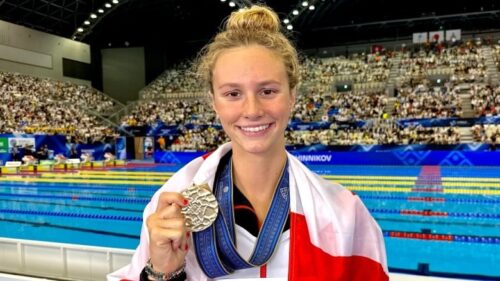 Summer McIntosh is a competitive swimmer from Toronto, Ontario and a current Grade 11 student with Ontario Virtual School. At 14, Summer was the youngest athlete on all of Team Canada invited to participate in the 2020 Tokyo Olympics. She came in 4th individually for the 400m freestyle and helped her team place 4th as the leadoff swimmer for the 4x200m freestyle relay.
In 2022 at the FINA World Aquatics Championship in Budapest, Summer was the gold medalist in the 200m butterfly and 400m medley, silver medalist in the 400m freestyle, and bronze medalist in the 4x200m freestyle.
Most recently she retained her world title at the World Aquatics Championships in Fukuoka, Japan. At just 16 years old she set a new Canadian and world junior record.
As with her older sister, pairs figure skater Brooke McIntosh, Summer needed an online educational platform that allowed her the flexibility to study around her hectic training and competition schedule. Taking courses with OVS, Summer is able to access her lessons and course work whenever she has the time, which lets her focus on training and her school work in equal measure.
Summer is currently finishing her Grade 11 year with us as OVS, doing incredibly well with her course work thus far. We are happy to help Summer achieve success in her academics while continuing to flourish as a competitive swimmer.