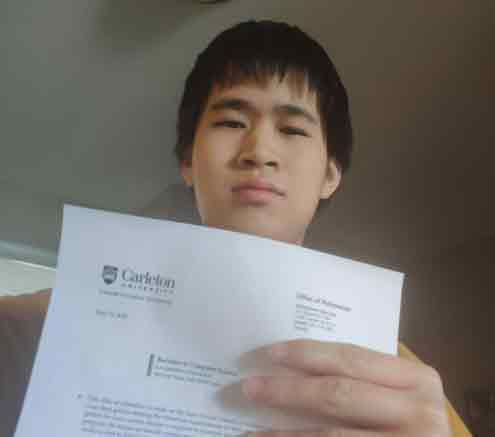 Yujiu Wang is a normal high school student. He enjoys chilling with friends at the bubble tea shop. He likes to have fun and stay fit by cycling. He unwinds by playing video games and watching superhero movies and anime. And like most high school students, he is concerned about his future. High school is a time of transition, and as Yujiu approaches graduation, he is getting ready for a particularly important transition in life: his post-secondary education.
Yujiu knew he wanted to apply to Carleton University, in his hometown of Ottawa, but being based in our nation's capital, Carlton is quite a prestigious institution. Yujiu knew he'd needed to do very well in his Grade 12 courses in order to be accepted. Of course, Yujiu knew he had the brains, and all he needed was the ability to show off his skills and knowledge, the ability to take control of his education and manage his schedule in a way that works for him. A way that wouldn't require him to put his whole life on hold in order to do his best and reach his highest potential.
Yujiu enrolled with Ontario Virtual School, taking our Grade 12 Advanced Functions course. Now he was able to learn the material from this important but challenging course wherever and whenever he wanted. He could move through it at his own pace, as fast or as slow as he liked. He notes some highlights from his experience with OVS.
"Quick help and assessments from my teacher, Ms. Reddy, and staff members, Ms. Mullins and Mr. George. Remote education that allows me to learn wherever I want. High flexibility in my schedule."
With his helpful instructor, and ability to control his own schedule, Yujiu was able to achieve the high grades he needed to apply to his desired university programs, and achieved his goal of receiving an offer to attend Carleton University. As he moves forward into his bright future, we asked Yujiu what he would tell any friends who may be thinking of taking a course with OVS.
"This could be an opportunity to earn grades for future education."
With his forward thinking attitude, and drive to plan ahead and do what needs to be done to achieve his goals, we're sure Yujiu will find great success in life, and we here at Ontario Virtual School are very proud to count him among our alumni.