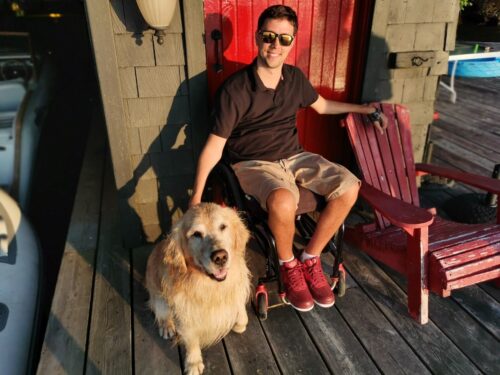 Scott Wollin finds educational success with OVS
An education is one of the most important things a person can have. A solid educational background opens countless doors opportunities. Unfortunately, for a wide variety of reasons, many students experience difficulty taking advantage of traditional opportunities for education. Scott Wollin is one of these students.
Although academically capable, numerous hurdles blocked Scott's dreams of attending university. His physical disability made attending traditional brick-and-mortar classes at specific times very challenging. Thankfully, with a bit of research, Scott discovered that his quadriplegia did not mean that he couldn't achieve his academic goals! When Scott enrolled with Ontario Virtual School, the struggles he had faced previously vanished.
"Because of my disability, attending class is difficult for me to do, so I really enjoyed the freedom of attending class from home whenever I got some free time."
Thanks to OVS's flexible, fully-online format, Scott was at last able to focus on simply learning. Indeed, the only difficulty he faced was the actual course work! Of course, with engaging, interactive multimedia lessons available to be viewed at any time, as many times as needed, Scott soon found that the course content itself wasn't nearly as difficult a challenge to overcome! He was excelling in his ENG4U, Grade 12 English course.
"The timeframe and online access to the course 24/7 makes it extremely easy to go back and really understand every aspect of the lesson. I also really liked being able to go at my own pace and have full control of my learning."
Yet, the ease of access and the interactive learning format wasn't the only thing that drew Scott to OVS – the quality of service was a key factor in his decision as well!
"I really liked what OVS had to offer. I could call any day of the week or send an email, including evenings and weekends, and someone was available to help."
We asked Scott if he had any advice he would like to share with students looking to take courses online, and this is what he had to say:
"Don't be afraid to push yourself, you might be surprised what you learn and what you can accomplish!"
After finding his experience with Ontario Virtual School's Grade 12 English course to be a good one, Scott has now enrolled in Grade 11 Functions, and is making great progress toward his university goals. As people familiar with Scott's work, we here at OVS are very proud to have been able to be part of his educational journey, and to see him reach further toward his potential.
"Thank you OVS, for keeping me motivated and allowing me to pursue my dreams of going to university."