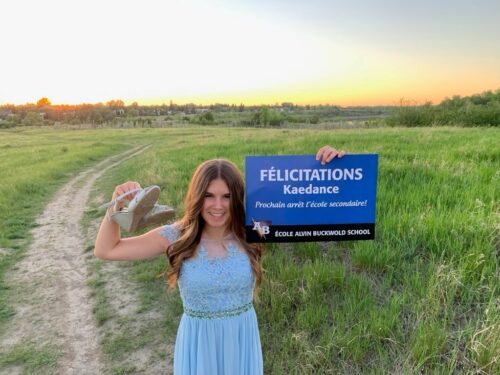 Studying French Immersion While Homeschooling
Kaedance is a homeschool student studying from Saskatchewan. She was worried about losing her French Language skills while homeschooling, so she decided to enroll in French Immersion (FIF1D) at OVS.
Along with our FIF French Immersion courses, we offer several other courses in the French Immersions program, from Business (BBB4M) and History (CHY4UF), to Humanities (HFA4U), Math (MCR3UF), and Science (SCH4U). We have more than 20 French Immersion course options ranging from Grades 9 to 12.
Kaedance said what she enjoyed most about her course at OVS was the way the platform was organized, making it easy to navigate. She also liked that our pre-recorded lectures had both an audio and visual component to enhance learning. She found the confetti animations when she signed in a nice little touch.
She was excited to see that we are working to expand our French Immersion program and plans to take more French Immersion courses through OVS.