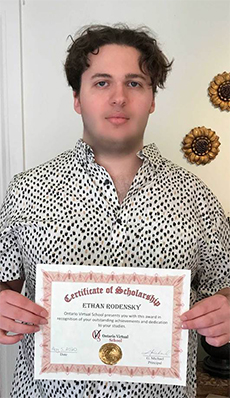 Meet Ethan Rodensky, OVS's first recipient of a $500 academic scholarship!
Ethan is currently pursuing an education in UI/UX design at George Brown College and hopes to secure a career in this field. Earlier this year, Ethan enrolled in MHF4U at Ontario Virtual School to brush up on the integral math skills any computer-related position requires. He was impressed with the overall student experience at OVS and with our custom-designed Learning Management System (LMS).
I found the course material well laid out, well organized, thoughtfully prepared and the instructions easy to follow.
Having a background in User Experience (UX), Ethan volunteered his time and expertise to provide valuable feedback. Ethan's insights, both as a student and as a UX enthusiast, have allowed us to further improve our student experience. And for Ethan, this allowed him to gain valuable first-hand experience working in his field.
My time working with OVS has given me real-world experience to put on my resume.
On behalf of all of us at OVS: We are proud to award Ethan with $500 academic scholarship to put towards his post-secondary studies. Thank you for your insights, Ethan, and best of luck to you as you pursue your dreams!