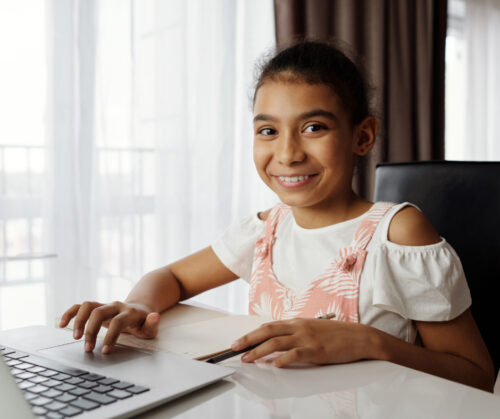 Reach Ahead with OVS to earn a Grade 9 credit in Grade 8!
As students approach high school age, they often experience contradictory feelings. On the one hand, high school can be intimidating to a young student – they don't know what to expect. On the other hand, students often feel a sense of excitement at the idea of moving on to this new stage of their lives! After all, it brings both increased responsibility and opportunity – both things young students crave. But whether your learner is nervous about high school or eager to start, chances are your child can benefit from the Reach Ahead Program!
The Reach Ahead Program allows students in Grade 8 to take up to three high school level credits ahead of time. To do so, students require permission from their current or intended school. This program offers students currently in their Grade 8 year a unique opportunity to get ahead. It also helps kids stay focused on academics throughout the summer prior to Grade 9. As a ministry-inspected high school, Ontario Virtual School is authorized to grant Reach Ahead credits.

There are several reasons why reaching ahead offers an excellent opportunity for students making the transition to high school.
1. Reach Ahead helps ease anxieties around this major change.
Starting high school means entering a new school, a new environment, and new peers. For some students, this may even be the first time they've changed schools. By working through a high school course ahead of time, Grade 8 students can alleviate some of the curriculum-based anxieties surrounding this big step, leaving them feeling more prepared for the changes to come in September.
I was really scared of Math when I started high school. If I was able to learn the stuff ahead of time it would've reduced my anxiety about the course. – Michael
2. Reach Ahead allows students to recognize and prepare for the rigor of high school study.
If your learner excels in their reach ahead credit, they will undoubtedly walk into their high school halls with a confident spring in their step. If, however, they find the jump in expectation to be a challenge, they will have time yet to adjust their learning and study habits to account for the increased rigorr, ensuring increased success in later studies. Ultimately, reaching ahead provides students a first-hand, realistic understanding of the expectations of the high school curriculum. Thus, providing them with much-desired context when choosing the rest of their Grade 9 courses.
Reach Ahead really helped me prepare more for high school in terms of how different it is from elementary level classes. – Ruchita
3. Reach Ahead offers a unique opportunity to lighten their Grade 9 workload.
If you're worried about a particular Grade 9 course (say, French) and want to get it out of the way, or if you're anxious about managing 4-8 required courses at once, Reach Ahead may be the solution you're looking for! By completing a mandatory credit in advance, students can reduce the difficulty of their first year by having fewer courses (or fewer 'heavy' courses*) to work through. This then offers more time to dedicate to the rest of their courses, making their overall experience more manageable. After all, a more manageable workload provides more room for greater success.
I would definitely have taken the French course to get it over with before going to high school! I was never good in French, and didn't plan to take more French courses after grade 9. – Anisha
4. Reach Ahead can help students take additional electives or fast-track their degree.
Students who successfully complete reach ahead credits open up doors to additional elective courses. Depending on their school administration*, students may also choose to take a Grade 10 course in the second semester of their Grade 9 year, freeing up time in a later year for a spare, additional electives, or even helping a student follow a path to early graduation!
*Some day schools may not allow Grade 9 students to take a spare and will instead schedule them to take an additional elective credit. In these cases, students will receive the spare in a later year. When contacting the day school to receive permission to reach ahead, we encourage you to ask about the school's policy surrounding first-year scheduling.
So, Why Reach Ahead with OVS?
24/7 Access, World-wide
OVS's fully-online, self-paced model offers the optimal setting for reaching ahead! Learn from the comfort and safety of your own home, or take your studies with you on summer travels. With OVS, students are able to earn credits on their own time! This means Grade 9 study doesn't have to impact ongoing Grade 8 courses or summer plans.
Engaging Lessons
OVS's interactive, multimedia lesson style offers the supportive environment students need to master new concepts, with the ability to pause and replay lessons as often as needed. We invite you to see for yourself: view a sample lesson for any of our courses by clicking on "Demo Lesson" in the course outline on our website!
Superior Support
All OVS courses are taught by an OCT-certified teacher. Upon registration, students receive an email from their teacher, who will be available throughout the course to answer questions, provide feedback and guidance, with email response guaranteed within 24-hours, and mark updates within 48-hours.
Transparent Parent Access
OVS's custom-designed learning management system also offers a unique parent-portal, providing parents, guardians or tutors their own access to our site to stay up-to-the-minute with their learner's progress and feedback throughout the course.
Flexible Completion Timeline
Our uniquely flexible model allows reach ahead credits to extend into the regular Grade 9 school year, if need be. With one full year of access to all courses, if the material is more challenging than expected or if schedules get delayed – all is not lost!
Option to Continue Full-Time
If your learner enjoys our online format and it suits your family's needs, reach ahead students are welcome to enroll with us full-time for Grade 9 as well! Simply reach out to our Administration once registered for more details on this.
What a wonderful opportunity to expose my son to reach ahead during the summer. Thanks to this program, we can still go away for our family vacation and have him use some of the time online to focus on getting prepared for high school while earning a credit! – Shanir
How Do I Register?
Getting started is as easy as 1-2-3!
1. Download the Reach Ahead Request Form from our website. While you're there, browse our Grade 9 course listing to choose the course or courses you'd like to reach ahead with!
2. Complete the form, including parental consent and permission of either the current elementary school principal or the principal of the secondary school the student will be attending in Grade 9 (if known).
3. Submit the completed form, along with a copy of the student's most recent report card and a copy of their birth certificate or passport to [email protected]
Once submitted, our administration will follow up with you within 1-2 business days. Once approved, you can follow our standard registration process!