FSF1D - Grade 9 Core French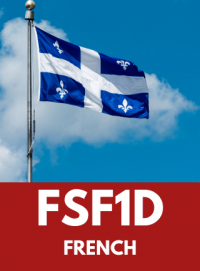 Course Code:

FSF1D
Course Type:

Academic
Format:

Online School Course
Prerequisite:

Minimum of 600 hours of French instruction or equivalent from Elementary School.
Tuition Fee (CAD):

$449
Demo Lesson
Course Description For FSF1D Grade 9 Core French Online Course
Grade 9 Core French (FSF1D) emphasizes further development of oral communication, reading, and writing skills. Students will build on and apply their knowledge of French while exploring a variety of themes. Thematic readings, which include a selection of short stories, articles, and poems, will serve as stepping stones to oral and written activities.
Summary Of Units And Timelines For Grade 9 Core French FSF1D
Below is the suggested sequence of course unit delivery as well as the recommended number of hours to complete the respective unit. For complete details of targeted expectations within each unit and activity, please see each Unit Overview found in the FSF1D course profile.
Unit Order
Unit Name
Suggested Time
Unit 1
Qui suis-je?
30 Hours
Unit 2
L'enquête policière
30 Hours
Mid Semester Point
Unit 3
La culture pop
25 Hours
Unit 4
La vie en vert
23 Hours
FINAL
Final Exam
2 Hours
Total
110 Hours
Fundamental Concepts Covered in Grade 9 Online Course
The aim of the course is to provide students with the necessary skills in all three strands of the French language. Students will develop their ability to read simple texts, write short responses and express personal details and opinions orally. Students will be required to learn various grammar concepts in order to familiarize themselves with the different parts of a sentence, as well as proper sentence structure. Students will be exposed to new vocabulary corresponding to the different units, and will have multiple opportunities to listen and speak in French.
Teaching and Learning Strategies in an Online School
Teachers will bring enthusiasm and varied teaching and assessment approaches to the classroom, addressing individual students' needs and ensuring sound learning opportunities for every student. The activities offered should enable students to relate and apply these concepts to the social, environmental, and economical conditions and concerns of the world in which they live. Opportunities to relate knowledge and skills to these wider contexts will motivate students to learn in a meaningful way and to become life-long learners. Teachers will help students understand that problem solving of any kind often requires a considerable expenditure of time and energy and a good deal of perseverance. Teachers also will encourage students to investigate, to reason, to explore alternative solutions and to take the risks necessary to become successful problem solvers. Effective instructional approaches and learning activities draw on students' prior knowledge, capture their interest, and encourage meaningful practise both inside and outside the classroom. Students will be engaged when they are able to see the connection between the scientific concepts they are learning and their application in the world around them and in real-life situations. Due to its importance, students will have opportunities to learn in a variety of ways- individually, cooperatively, independently, with teacher direction, through hands-on experiences, and through examples followed by practice. The approaches and strategies teachers use will vary according to both the object of the learning and the needs of the students. Teachers will accomplish this in online environment with the use of: virtual labs, online simulations, animations, videos, discussion forums, live chat and other interactive objects.
Accommodations for students with an IEP in an online high school
All students can succeed. Some students are able, with certain accommodations, to participate in the regular course curriculum and to demonstrate learning independently. Accommodations allow access to the course without any changes to the knowledge and skills the student is expected to demonstrate. The accommodations required to facilitate the student's learning can be identified by the teacher, but recommendations from a School Board generated Individual Education Plan (IEP) if available can also be consulted. Instruction based on principles of universal design and differentiated instruction focuses on the provision of accommodations to meet the diverse needs of learners.
Examples of accommodations (but not limited to) include:
Adjustment and or extension of time required to complete assignments or summative tasks
Providing alternative assignments or summative tasks
Use of scribes and/or other assistive technologies
Simplifying the language of instruction
Frequently Asked Questions
What is FSF1D?
FSF1D is a Grade 9 Core French course at an academic level.
What are 1D courses?
1D refers to the Grade level of the courses and the pathway. 1 means it is a grade 9 course and D means it is an academic level course.
What is the prerequisite course for FSF1D?
Prerequisite: Minimum of 600 hours of French instruction or equivalent from Elementary School.
How long does it take to complete the FSF1D online course?
At Ontario Virtual School (OVS) you can complete an online highschool credit courses as quickly as 4 weeks, or take as long as 12 months.