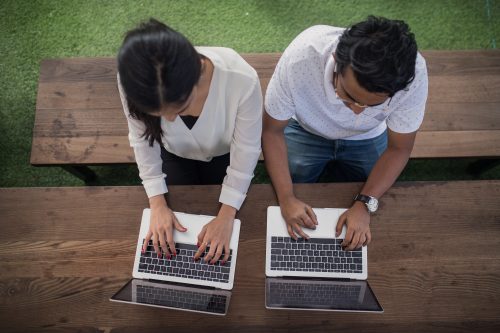 Have you taken a course (or two!) online with us, absolutely loved the experience and wished you could take all your courses online? Maybe traditional brick-and-mortar classes just aren't working for you and you're seriously considering switching to online? Well then lucky for you, becoming a full-time student with OVS has never been easier! With our knowledgeable staff of in-office administrators available for over-the-phone consultation from 8am to 8pm Monday to Friday, why wait to have all your burning questions answered? In fact, why wait at all? We've gone ahead and answered some of the most common full-time questions right here – all you have to do is scroll! ↓↓↓
What do I have to do to become a full-time student with OVS if I am…
 … currently enrolled at another school, but want to switch to OVS:
Simply register for at least four courses and, once registered, send an email to [email protected] letting us know you would like to be made a full-time student! We will then issue a request to your current day school to have your student records sent to our office. Once received, we will take over the process of updating and issuing your transcripts, monitoring your community service hours, and administering your OSSLT exam, if not already completed!
Not sure which courses to sign up for to start? No problem! Send [email protected] an email with your most recent transcript prior to registering and we'll help you put together a course plan!
… a home-schooled student looking to switch to a blended model with OVS:
Before registering, email [email protected] your current record of courses completed for review, as well a contact number where you can be reached. Since home-schooling methods vary greatly, we may want to reach out directly to discuss your path to OSSD completion!
… a Canadian student attending school outside Ontario:
Send your most recent transcript to [email protected] for review. We will contact you within 2-3 business days to let you know what equivalencies can be granted and what courses you will need to take through us in order to earn an Ontario Secondary School Diploma.
*Please note, if you attend school in Quebec, you will need to connect with our Quebec partner, Northern PreUniversity. Please email: [email protected].
… an international student who has never attended school inside Ontario:
Send translated copies of your international transcripts to [email protected]. Our guidance team will review these documents and contact you within 3-5 business days to let you know what equivalencies can be granted and what courses you will need to take through us in order to earn an Ontario Secondary School Diploma.
What are the benefits of being a full-time student with OVS?
Our courses are available 24/7, 365 days a year, meaning you can study when you want and where you want! And, with continuous enrollment, you're completely free to set your own timeline and schedule! Opt to work on fewer courses (or the easier ones) during times when you're busiest in your personal life, and save the bulk of your learning for your off-season! Have something that keeps you busy year-round? No problem! With OVS, you are also free to decide how long you take to earn your OSSD. So, whether you stick to the traditional 4-year model, work year-round to complete it even faster, or choose to space your 30 credits out over 5 or 6 years, our dedicated administrators and instructors will be there to help you every step of the way! Did we mention we'll also help you apply to post-secondary when the time comes? We automatically submit your report cards to OUAC and OCAS, as long as your applicant numbers are included. We can also email your reports and/or transcripts directly to your admissions officer(s), all you have to do is ask!
Are there any discounts available for full-time students?
Students enrolling with a full-time course load of 8 courses per year are eligible to receive $400 off their annual cost – just ask us how! Keep in mind, our course fees already include all applicable taxes and administrative fees, as well as course materials and access to our amazing year-round customer support!
Are there any required courses you don't offer?
Nope! We offer all of the compulsory credits, meaning you could start from grade 9 and work your way through all 30 credits with us, if you so choose! We also have a wide range of elective courses available at the Grade 11 and 12 levels, meaning you can cater your course selection to the post-secondary path of your choice!
Will OVS be able to graduate me?
Absolutely! Over the years, we have graduated dozens of students, with many more currently working towards diploma completion. If it is your intention to have us graduate you, please send an email with your most up-to-date transcript to [email protected] so we can help you put together a course plan and discuss community service and OSSLT administration details.
Will I still get an actual diploma or is it just an online certificate?
Each and every student who graduates from Ontario Virtual School will receive a standard Ministry-issued diploma mailed to their home, ready to be framed and displayed proudly!
Will a diploma from OVS get me into the post-secondary institution of my choice?
Yes! OVS is fully accredited by the Ontario Ministry of Education to grant OSSD credits and graduate qualifying students with an official Ontario Secondary School Diploma, which is accepted by post-secondary institutions around the world!
Still have questions, or just want to chat in more detail about going full-time?
Give us a call at (416) 907-4899, or send an email to [email protected] to learn more!