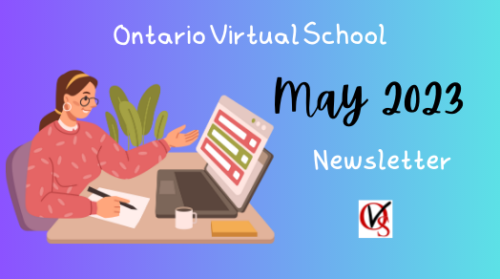 Though we have just passed the midterm deadlines, senior students already need to start planning for graduation. Many students will be getting their conditional offers over the next month for their post-secondary programs, but just because you receive an offer doesn't mean that you can stop focusing on your school work. You'll see need to maintain your grades and graduate on time to keep your offers.
For OVS students, there are certain deadlines you'll need to meet in order to guarantee getting you grades where they need to go. For this purpose, we have broken up our students into three groups.
Group 1: Students enrolled full-time in a day school who are graduating this June, taking courses at OVS that are needed to meet graduation requirements. (I.E One of your 30 credits)
Group 2: Students graduating with OVS OR students enrolled in a full-time day school who DO NOT need their OVS credits for graduation and only need their OVS course marks sent to OUAC/OCAS (I.E Upgrade course students) 
Group 3: Neither of the above; not graduating from an Ontario High School this year and/or not applying to post-secondary for September 2022 (I.E Grades 9-11 students, 105 applicants)
Once you know which group you fall under there are deadlines that you'll need to be aware of:
Grade 7 and Grade 8 Math is designed to help students acquire a positive attitude towards mathematics.
In grade 7 students will learn about number concepts, algebra, data management, spatial sense and financial literacy.
In grade 8 students will learn about roots and Pythagorean theorem, operations and integers, fractions, measurement, rate and ratio, geometry and coding.
In Grade 7 Science students will learn to understand life systems and the impact human beings have on the environment. Students will continue to learn about the effects of forces that act on and within different structural forms.
In Grade 8 Science students will continue to develop their knowledge of organisms by focusing on the structure and function of cells in plants and animals. Students will learn to calculate the mechanical advantage of mechanical systems, and will learn about the overall safety, efficiency, and effectiveness of a variety of systems.
The expectations for Grade 7 and Grade 8 Language focuses on the consolidation of students' language knowledge, skills, and strategies and their ability to use them independently and effectively to understand, reflect on, apply, and communicate information and ideas, and for continued learning in school and in a multicultural, multimedia world.
In Grade 7 History, students will examine social, political, economic, and legal changes in Canada between 1713 and 1850. They will explore the experiences of and challenges facing different groups, including First Nations, Métis, and Inuit communities.
In Grade 8 History, students will build on their understanding of earlier Canadian history, examining how social, political, economic, and legal changes in Canada between 1850 and 1914 affected different individuals, and communities, including First Nations, Métis, and Inuit individuals and communities.
In Grade 7 Geography, students will explore opportunities and challenges presented by the physical environment and the ways in which people around the world have responded to them. 
In Grade 8 Geography, students will build on what they have learned in earlier grades about Earth's physical features and processes in order to explore the relationship between these features/processes and human settlement patterns around the world.
OVS is dedicated to operating both locally and internationally, dedicating the time and energy to ensure students around the globe can get a quality Canadian education. Check out this OVS featured video  from Colegio Granco-Brasileiro in Brazil by scanning the QR code or follow this link.