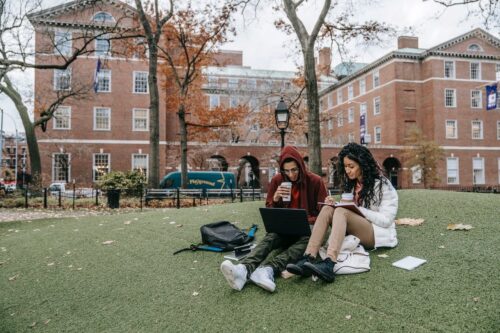 As students work towards graduation, many are beginning to think about their next chapter. Deciding what to do after high school can be a daunting prospect. One of the first major choices is deciding whether you want to apply to college, university, or both!
As an established high school that's helped hundreds of students earn their Ontario Secondary School Diploma, Ontario Virtual School can help you through this important decision-making process. Our guidance team maintains dedicated pages with up-to-date information on application deadlines and procedures for both college and university. We also provide plenty of information to help you make informed decisions about your post-secondary pathway. They are also available for one-on-one consultation.
College or University?
Some may wonder, what's the difference between college and university, anyways? Typically, universities cater to more theoretical disciplines (Languages, Philosophy, Mathematics). Colleges cater to more hands-on, job-ready field training (Nursing, Business Administration, Dentistry).
Many also wonder: is one better than the other? The answer depends on the field you're looking to enter into. With a focus on more hands-on training, colleges can prepare students for direct access to different job markets that are eager to hire, and in less time than the average university degree. Yet, many top-paying fields require university degrees, so students pursuing those fields may find university their necessary path.
Why Not Both?
It's important to note a third, less discussed option: applying to both! More and more students are finding that starting with a 2-year college program is a great way to bridge the often-cited gap between the rigor of high school and that of university. There are also an increasing number of programs offered as joint ventures between reputable colleges and universities. These joint programs offer students the opportunity to experience the hands-on benefits of college programming, in addition to the in-depth classroom studies common of universities.
In the end, it comes down to deciding what field, and what style of learning, is right for you. Are you a hands-on learner, eager to enter the workforce and start earning? Then college may be the best fit for you. Are you a more theoretical thinker, determined to work in a particular field, even if it means more years of study? Then university may be the path to get you there.
No matter what your situation is, feel free to contact our guidance team to help you navigate and plan for the next stage of your educational career!