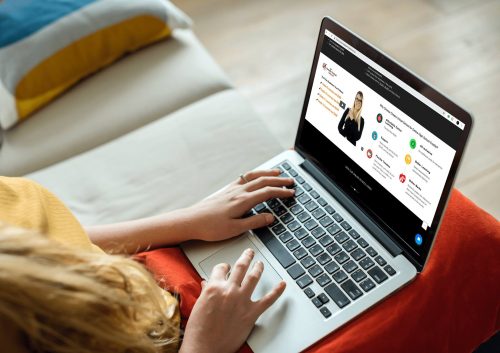 With over a decade of industry-leading experience, Ontario Virtual School is currently the highest ranked online school in the country. But we know reviews aren't always enough when it comes to a decision as big as making the switch to online learning. Given how new this way of learning is, many families aren't sure what to expect when they sign up at an online school. That is why we have designed our own custom Learning Management System (LMS). Our LMS not only provides access to quality education, it also streamlines the student experience. Here's a quick overview of how it works!
Watching Lessons
Our LMS makes attending lessons ultra-convenient, with no set log-in times and 24/7 access. Lessons are divided into topic-specific sub-sections. Each lesson seeks to engage, with fully-animated visuals and active voice narration. Students are able to watch these lessons at any time and place they choose. They are also able to pause, rewind, fast forward, and re-watch any part of any lesson, as many times as they like! Our course content is rich multimedia video prepared by curriculum leaders and features varied elements, including in-lesson quizzes and clickable activities, to ensure that students of all learning styles will enjoy their experience.
But seeing is believing, right? We think so, too. That's why all of our course outlines include demo lessons taken directly from the course and available for you to view, prior to registration! You should also know that OVS provides all the necessary learning materials at no additional cost. This includes custom online textbooks in PDF format, worksheets, practice tests, sample papers, and more!
Completing Assessments
At Ontario Virtual School, we ensure that all our students have the support they need to maximize their performance on assessments. When a student reaches a lesson with an assignment, the lesson will explain the assignment, including a link to detailed instructions, which can be easily downloaded, saved, and printed for reference while completing the assignment.
One key difference with OVS's self-paced model is that students are able to take as much time as they need to complete assignments. This means students can ensure they complete each assignment to the best of their ability. Once completed, students simply upload their work to our secure Dropbox, and our instructors guarantee that all assignments will be marked and returned with feedback within 48 hours. As a result of our guaranteed mark return and flexible schedule, students are able to complete an OVS course in as little as four weeks, or take as long as one full year, maximizing both their grades and their efficiency in credit completion.
Teacher Interaction
While we often emphasize the benefits our pre-recorded lessons, OVS also understands that many families may be nervous about enrolling in classes without direct teacher interaction. Rest assured, all OVS courses are led by OCT-certified teachers who are only a click away. This means that students will have a dedicated teacher in each of their courses, who will be available to provide clarification, guidance, feedback and additional assistance as needed. In fact, we like to think that at OVS, students have even more access to their teachers than they might elsewhere!
After all, at OVS, students have individual access to their teacher. This means they are not vying for attention with several other students during small windows of instructional or between-class times. Instead, OVS students are able to ask questions or share concerns with their teacher via email, at any time – including after hours while completing homework. The private and individual nature of the teacher-student relationship at OVS can also be greatly beneficial for students who may be too shy or anxious to voice concerns or questions in front of peers.
Additionally, within our model, students can email their teachers at any time, not only during school hours, and are guaranteed a response within 24 business hours. Of course, responses are often much faster, particularly during a teacher's office hours – weekly times when students are guaranteed near instantaneous response. We also guarantee mark turnaround on all assignments within 48 business hours, so student can truly benefit from their teacher's feedback while the assignment is still fresh in mind.
Administrative Support
In addition to our dedicated instructors, all OVS students also have unlimited access to our exceptional administrative and support staff, including our Guidance and Student Success Teams. Whether it is answering your initial questions, helping with course selection and prerequisite approval, designing personalized study plans to meet your completion goals, or processing your credit where it needs to go in time to meet your institutional deadlines – our support staff are here to help you reach, or even exceed, your academic goals.
Tracking Achievement
At OVS, we know how important your child's learning is to you. We also know that traditional progress reports get lost in the bottoms of bookbags and that parent-teacher nights are few and far between. That is why we have customized our LMS to include a dedicated parent portal! This portal allows parents, tutors, or educational partners their own "Guardian Access" to ensure families are aware of their student's progress at every stage. For students under the age of 18, parents are also included on all email correspondence with our administrative team.
We believe that both parents and students should know exactly how their learner is progressing at any point throughout a course. With "Gradebook," students and parents are able to check progress in a course at any time, including lessons viewed, assignments completed, and all grades and feedback earned.
At Ontario Virtual School, we know that transitioning to e-learning can be intimidating, but with our unique Learning Management System and our dedicated staff, we do our part to ensure your transition to online learning is as smooth and seamless as possible! Have more questions about making the switch? Check out our FAQs or connect with our office to learn more today!