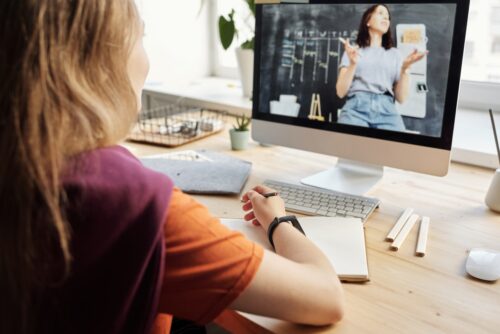 It's hard to imagine an industry more impacted by the COVID-19 pandemic than education. Across the world, educational institutions have had to redesign and rebuild to serve a student base that is social distancing at home. This has been a jarring adjustment for many, but there are educational institutions that have extensive experience developing and delivering world-class online education programs. This can prove to be an immense boon to students, who may find that online learning better fits their situation and learning strategies.
The Ontario Virtual School (OVS), a virtual high school in Ontario, has been quietly leading innovation in the online learning space for more than a decade. There's an abundance of eLearning institutions cropping up all over Ontario, but they are by no means created equal. Let's take a look at the Ontario Virtual School and examine why it stands ahead of the pack as a top virtual school.
Online courses for every career plan
OVS has an extensive catalogue of online courses — offering a wide array of available credits. OVS's French immersion courses, for example, offer students the ability to study a variety of courses such as International Business in French. Demonstrating success in French language skills in these immersive environments is an incredible way to develop your competency in Canada's other official language.
Because of the breadth and depth of OVS's courses, there's a clear trail for those students looking at building out a post-secondary pathway, even for rare disciplines often poorly served in traditional learning environments. In the hard sciences, OVS students can stay on track and study high school chemistry online, developing foundational knowledge of the scientific topics they'll be using throughout their university studies. This helps explain why so many of their grads go to top universities after they graduate.
Professionally grounded educational philosophies
OVS is not an institution that's just sprung up out of the ground, it's been serving Ontario students for the past decade. This experience leading the online education space has left the school with a vast wealth of educational knowledge.
An example is Mayer's 12 Principles of Multimedia Learning, a framework for creating engaging, clear online lessons. These principles anchor the whole learning philosophy of OVS, ensuring that OVS's lessons are among the highest quality online courses in Ontario. For example, when students take MHF4U or MCR3U online, they not only begin to learn about mathematical functions, but also how they can be applied across multiple disciplines.
Another major tool used by teachers to get a clear overview of their students' needs is an initial pre-unit assessment, which serves to establish which topics students might need extra support in mastering.
11 Years of online education know-how
The last eleven years of education have given OVS a considerable technological infrastructure to assist students. This technological elevation influences almost all elements of the student's experience at an online high school. It's anchored on findings in UX (User Experience) and UI (User Interface) disciplines to ensure that portals, applications, and websites are designed to meet the end-users' needs first and foremost.
One of the common criticisms of online learning is that teachers remain very passive in the learning process, delivering lectures and marking assignments, with little direct interaction with their students. That's not the case with OVS. Thanks to their innovative notification systems, student attendance and performance in classes is analyzed, and when a student is seen to be struggling, the teacher receives a notification to consider giving that student some extra attention to stop them falling behind.
Another great example of how online education can help students is in terms of class sizes. Due to OVS's model, classes are never fully enrolled. OVS instead hires more instructors to accommodate the new students. This means that students don't miss out on essential credits, so they can graduate on their own schedule without being held back because of enrollment issues.
Beyond the technological infrastructure of the courses, OVS maintains a whole suite of extra tools and resources that can help students develop a variety of skills. For example, for students looking to bulk up their "hard" scientific skills, OVS's Gizmos library is essential.
These Gizmos are interactive math and science simulations and they are an effective way of developing conceptual understanding, which can greatly assist students in approaching classic scientific problems, and building on their understandings of experimental design. Enrollment through OVS comes with access to 400 different Gizmos, all walking students through challenging and engaging topics from growth and genetics to flotation buoyancy.
Full support, wherever you are
It is not only in technology where OVS excels. The school is also staffed by a fully credentialed student support team, who can proactively assist students using the analytics and metrics baked into the OVS platform. The Student Success Team monitors portal activity and checks in with teachers to oversee progress, and when students struggle, counsellors can provide the essential tools, strategies, and resources to get them back on track.
Although OVS offers remote learning, their teaching model ensures that there's nothing remote about the connection between teachers and their students. Teachers have "virtual office hours" where they are available to check in with interested students. They also commit to responding to student queries within 24 business hours. Students aren't left to sink or swim at OVS but instead receive a great deal of support and assistance comparable to that of a conventional school.
Thanks to a dedicated support staff, an adherence to technological relevancy, and a wealth of educational knowledge, OVS prides itself on over ten years of online education excellence. If you'd like to learn more about OVS' programs, get in touch today.