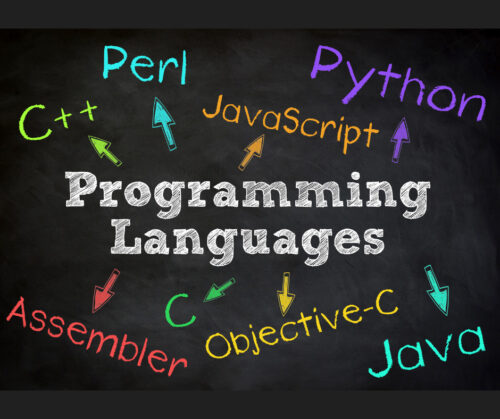 Technology is undeniably the way of the future, making coding languages one of the most important second languages you can study! If you're interested in pursuing a career in computer science, you will need strong analytical and problem-solving skills. You should also expect to be continually learning and adapting to new advances in technology throughout your career.
Suggested Courses
Most computer science programs expect applicants to have completed two of the three core sciences (Biology, Chemistry and Physics). You will also need to have taken Computer Science, Advanced Functions and Calculus & Vectors in Grades 11 and 12. Here is a full list of suggested OVS courses for students pursuing this pathway:
Grade 11
• MCR3U Grade 11 Functions
• SCH3U Grade 11 Chemistry
• SPH3U Grade 11 Physics
Grade 12
• ICS4U Grade 12 Computer Science
• MCV4U Grade 12 Calculus and Vectors
• MHF4U Grade 12 Advanced Functions
• MDM4U Grade 12 Data Management
• SCH4U Grade 12 Chemistry
• SPH4U Grade 12 Physics
Potential Programs
Many schools offer Computer Science as both a minor and a major, or even a double major, meaning you can pair it with another related major, like Math. Schools also typically offer programs that allow you to start with the basics and specialize later on. So, whether you already know what you want to study, or you're still unsure, remember there is a program for you out there – you just have to find it! To help you with your research, here is a list of various programs and specialties with a Computer Science focus:
Programs
• Computer Science
• Software Engineering
• Computer Engineering
• Computing Technology
• Information Systems
• Programming
• Mathematics and Computer Science
• Business Administration and Computer Science
Specialties
• Algorithms
• Computer and Internet Security
• Mobile Computing
• Computer Game Development
• Network Computing
• Data Science
• Management and Entrepreneurship
Or, see for yourself! You can search the huge selection of programs available at different post-secondary institutions. This link will allow you to search university programs in Canada, and this link will help you search through all Ontario college programs.
Recommended Post-Secondary Institutions
Here are some Canadian universities and colleges that offer well-recognized computer science programs. All these colleges offer advanced diplomas (2-year programs) in specific computer science specialties.
Universities
University of Toronto
Western University
University of Waterloo
Carleton University
McGill University
Concordia University
University of British Columbia
Colleges
Algonquin College
George Brown College
Niagara College
Seneca College
Georgian College
Conestoga College
Centennial College
Scholarships and Bursaries
It's no secret that post-secondary study can be expensive, but in today's society, it's considered an investment towards a brighter future. But who doesn't want 'free' money? Scholarships and bursaries are great ways to ease the financial burden of post-secondary study. Most schools offer entry scholarships based on high school averages, but there are many other opportunities as well! These range in value and entry criteria, so it's important to do your research!
Generally speaking, scholarships are awarded in acknowledgement of academic excellence, while bursaries are allocated based on financial or situational need. Either may be given out by the university itself or by an external source. For school-specific scholarships and bursaries, it's best to browse the university website for a dedicated page explaining the criteria and application processes for their awards. For externally offered scholarships, the Scholarships Canada database lists hundreds of searchable opportunities each year. It's important to apply for these awards early, as the application deadlines vary widely. Tips for filling out scholarship applications can be found here.
The application process itself also varies greatly. Some will involve writing an original essay or creative piece based on specific criteria, others will require you to provide a series of specific documents proving your academic or financial standing, while a select few will simply ask you to fill out your contact information for a luck of the draw pull. In general, the applications whose processes are more complex, and whose criteria are more specific, are the ones you have a greater likelihood of being awarded. Scholarships and bursaries do lighten the financial burden of higher education, but they also require time and effort in finding and applying for ones that apply to your specific situation.
Career Options
A computer science degree can lead you to many amazing career opportunities, but which one is right for you? Just like picking a degree, it's important to pay attention to your skills and personal interests. As they say, if you love what you do you'll never work a day in your life! In the list below, we've compiled several potential careers that computer science graduates could choose to pursue:
• Software Developer
• Computer Hardware Engineer
• Database Administrator
• Computer Systems Analyst
• Web Developer
• Computer Network Architect
• Information Security Analyst
• IT Project Manager
• Computer and Information Research Scientist
• Cyber Security Developer
• Multimedia Programmer
• Computer and Information Systems Managers
• Games Developer
• Database Administrator
Looking for career paths that are more specific to your future degree? This website details the different types of career paths you can take with a computer science degree. There are also opportunities to further your education after completing your engineering degree. You can pursue a Master's degree or PhD in a more specialized topic, or enroll in a college program to gain hands-on skills.
At the end of the day, remember that the path you choose is never set in stone and the decision to change pathways should never be regarded in a negative light. Instead, consider a shift in focus or discipline as just another way of expanding your skill-sets and areas of knowledge. And, as always, OVS is here for you if you find yourself in need of prerequisite courses or upgraded marks to embark down a new path towards your ideal future.