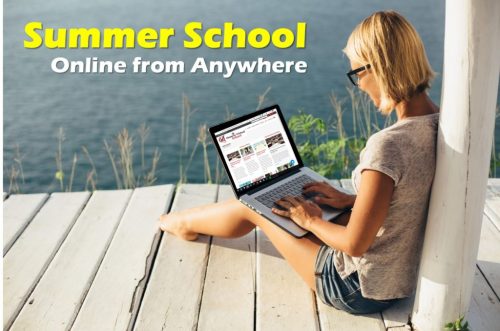 Summer break is finally here for students across the country! Two months of unstructured time to spend relaxing, hanging out with friends, and, if you're lucky, hopping trains and planes, or even just piling into the family car for a road-trip. Summer is the perfect time to unwind and take advantage of the outdoors – except for one little problem: you need to take summer school.
Well, don't wave goodbye to your vacation just yet. After all, summer school doesn't have to ruin your summer plans! Check out our extensive course listings and register to take your course(s) at Ontario Virtual School. Our accelerated, self-paced summer school offerings allow you to complete your coursework in as little as three weeks*, from anywhere in the world. With our courses, there's no need to miss out on all the fun of summer: simply bring your phone, tablet or laptop to the beach, toss on the sunglasses and watch lessons while you soak up the sunshine!
Heading abroad this summer? Not to worry, you can access our courses 24/7 from anywhere with an internet connection (or download content for on-the-go viewing). Even your final exam can be done from anywhere: all you have to do is find a suitable proctor to supervise you for 2-3 hours while you write it!
Sound too good to be true? Sound like the answer to your summertime prayers? Well, get ready to pinch yourself because it's 100% true! We are fully accredited by the Ontario Ministry of Education to grant successful OVS students with credits towards their Ontario Secondary School Diploma. When you complete a course through us, we mail a hard copy of your final report card to your day school and they add it to your official transcript. Upon request, we can also communicate directly with OUAC, OCAS, or your post-secondary institution to provide proof of enrollment and completion of a course with us!
There are many reasons why a student might need (or want) to take courses during the summer, and whatever your reason, OVS has got you covered!
If any of these sound like you, head on over to our website and take a closer look at what we have to offer or call our office between 9am and 9pm Monday-Friday to find out more!
*Three-week accelerated option only open to students who register between July 1st and August 5th. All other students are subject to the standard minimum completion time of 4 weeks.
Contact Us if you have any questions
View a list of our Courses
Register for a Course
Frequently Asked Questions