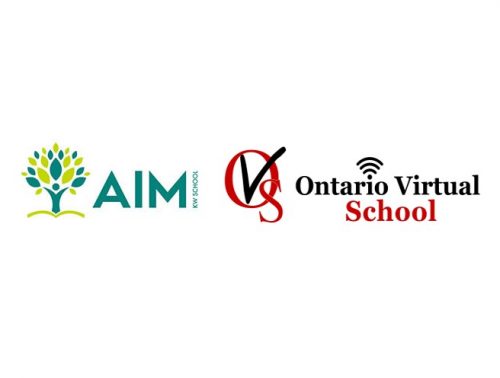 In 2020, students and families around the world watched as the education landscape pivoted to adapt to the constraints of a global pandemic. With these changes, many realized the benefits of alternative models of schooling, both in their added flexibility and in their tailored, student-centered approach. Schools like AIM KW High School and Ontario Virtual School have long histories of delivering these kinds of unique educational experiences. Now, OVS and AIM are teaming up to combine their individualized models to provide students with even more opportunities!
AIM KW High School is an innovative micro-school specializing in student-centered education. Ontario Virtual School allows its students to complete Ministry-inspected OSSD credits, entirely online. Both schools offer a self-paced, student-centered learning experience, with courses designed specifically for this alternative model. With their shared educational philosophy, but different overall approaches, AIM and OVS recognized the tremendous potential of this natural partnership.
AIM KW High School first learned about Ontario Virtual School when, as part of developing a unique education plan for their students, one student began a course with OVS. At Ontario Virtual School, students are not confined by a timetable. Instead, they are afforded the freedom to tailor their education to their own interests and needs. And, with multimedia lessons that take full advantage of evolving e-learning technologies, OVS is a natural complement to AIM KW High School's personal, student-focused approach. In this way, what originated as a trial for a single student, quickly blossomed into partnership:
"We appreciated OVS's willingness and ability to accommodate [our student's] unique learning needs. After chatting with the founders, we discovered this amazing opportunity to collaborate with like-minded educators. OVS truly understands how students' benefit can from flexible, individualized learning."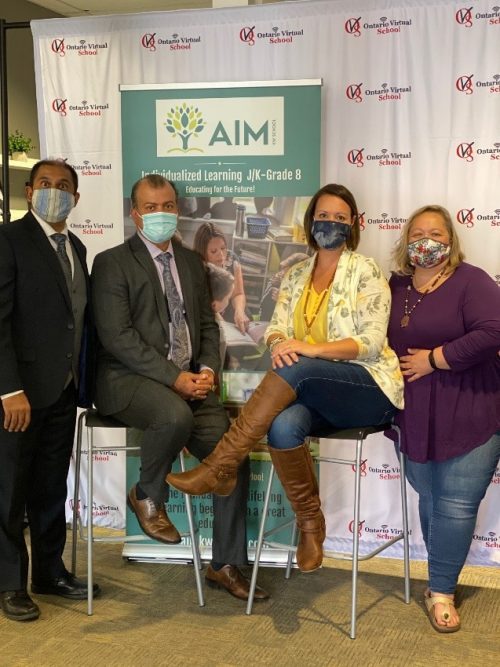 As a result of this joining of forces, AIM KW High School and Ontario Virtual School are now able to provide a quality hybrid teaching experience. This partnership will combine the one-on-one, in-person support of AIM KW School with OVS's flexible, online multimedia content to allow students of all learning styles to graduate with an official Ontario Secondary School Diploma. Students within this partnership will have access to both OCT-certified teachers through OVS, as well as all the added resources AIM offers, including their High School lounge offering peer engagement, and the guidance of dedicated AIM coaches and staff.
OVS looks forward to continuing our shared mission with AIM KW High School to help more students experience the true power of modern, alternative education.