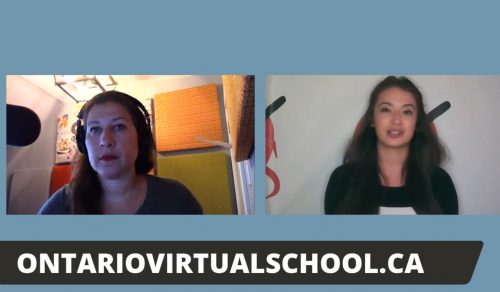 Ontario Virtual School teamed up with TV & Radio Personality, Taylor Kaye, for a livestream Q & A session yesterday evening, July 15th from 8:30-9pm. Missed the live version? The full video is available here:

DID YOUR CHILD GET WHAT THEY NEEDED FROM SCHOOL THIS YEAR? Tonite we are giving away 2 courses from the Ontario Virtual School. Have your questions ready we will have a Teacher/Admin expert on to answer them!Comment to win! Every Comment counts. Open to Canadian Residents. For use for Ontariovirtualschool.ca. Contest closes on July 16 at 11:59PM Good luck! Contest winners will be dm'd on FB

Posted by Taylor Kaye on Wednesday, July 15, 2020
The livestream session, which aired on Facebook, Twitch and Twitter, featured Taylor Kaye and OVS's own Teacher and Course Developer, Alicia Cuzner, who answered viewer questions in real-time. Of course, many questions were not able to be covered in the fast-paced, half-hour session, so we've provided answers to some of the most commonly asked questions here.
"I didn't know this existed! How long has OVS been around?" – OVS has operated as a fully-accredited private online high school since 2010, and has issued more than 15 000 OSSD credits to students from around the world! Our full story is available here!
"How are your courses taught?" – All OVS courses are taught through pre-recorded videos that students can watch on their own time. There are no deadlines, no required sign-in times, and no Zoom meetings. To check out our fully narrated, multi-media lessons, have a look at any our courses and click through to the "Course Outline" for a demo lesson!
"Is there a teacher? Will my child get the help they need?" – Absolutely! Each course has an OCT-certified teacher who is available via email to answer any questions your student may have along the way. We keep to 24-hours for email responses and 48-hour for marking and feedback on assessments – this ensures that the content is fresh in the student's mind and the feedback loop can be at its most effective!
"Are these courses accredited? Will they count towards my kid's diploma?" – Yes, OVS is inspected by the Ontario Ministry of Education and accredited to provide OSSD credits to students from around the world. That means our credits count just the same as any public Ontario day school. Our administration and guidance teams will also help make sure your mark gets where it needs to go upon completion – to your day school for graduation, to OUAC or OCAS, or directly to your post-secondary institution of choice!
"Can students take courses online AND at through their regular school?" – Yes! Most of our students are part-time and only taking 1-3 courses online through us, with the rest being done at their brick-and-mortar school. Upon completion of a credit, we would forward the final report card to the home school to be updated onto the student's existing transcript.
"How long does it take to do a course here?" – OVS operates on an entirely self-paced model. Our courses can be completed in as little as 4 weeks, or students can take up to one full year to complete – it's entirely up to your schedule! The recommended number of hours for each course is 110. This is an estimate, and can vary based on the student's learning style.
"Is there a deadline to register for the fall?" – OVS offers year-round enrollment – you can start and finish at any time! Once you complete registration, you can get started right away – no waiting!
"Is there a maximum number of courses you can take?" – OVS allows students to take as many courses as they like at a time. However, if a student is taking more than 3-4 courses in a given year, they would need to check with their day school guidance, as this would classify them as full-time with OVS. We are fully accredited to issue the Ontario Diploma for our full-time students, but if a student wants to remain enrolled full-time at their current school, taking more than 2 courses per year at an alternate institution is not typically allowed. You can contact our admin for more details on this!
"Does OVS monitor student progress and support their learning?" – Yes! While we are self-paced, we do have a student success team who work to ensure that students are not letting their online studies fall completely to the side! We check in every 30 days, if we notice a student is not working consistently. Our teachers also monitor student progress using in-lesson quizzes (which do not count towards the final grade, and are just intended to give students & instructors an idea of their understanding).
"How much does this cost? Is it private?" – We are a private school, and our fee structure is based per course. The fees are $449 CAD per course at the Grade 9 and 10 level, and $549 per course at the Grade 11 and 12 level. That said, we do offer discounts and a number of free non-credit courses as well.
"What are these FREE courses I keep hearing about?" – In 2020, OVS unveiled our new "High School 101" course suite. This includes 4 completely separate, completely free courses that students of any age (even parents!) can take to improve their skills in a number of key areas, or just to get a better idea of how online learning through OVS works! These courses are designed for Grade 7/8 students, to help them prepare for the transition to high school, but can really benefit students of any age. They do not count for credit; but they can be taken prior to, or alongside a paid credit course.
Interested in learning more about OVS and what we have to offer?
More FAQs are available on our website! You can also email [email protected] at any time or give us a call at 416-907-4899 between the hours of 8am and 8pm Monday through Friday! Hint: many of our FAQs are also answered by pressing "2"!
A big thank you to Taylor Kaye for hosting us! You can find her on Instagram and Facebook as "Taylor Kaye".