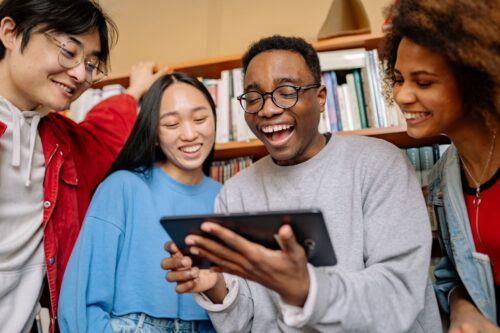 The Ontario University Application Centre is a not-for-profit centralized application service for students looking to apply to Ontario Universities. This program has application processes for current high school students (including those attending online schools), mature students, as well as applications for law school, medical school, rehabilitation sciences and teacher education. If you're looking to apply to an Ontario university, the program will help you through the process.
What Type of Applicant Are You?
There are two main types of application for undergraduate admission in Ontario, 101 and 105.
Students are considered 101 applicants if they are currently attending and Ontario high school, are under
21 years of age, have not at any point been out of high school for more than 7 months and have not
attended a post secondary program.
105 students are those who are adult students and are not currently attending a high school day program.
If you're not entirely sure which type of applicant you are OUAC offers a questionnaire that will help you pick
the right application pathway.
Connecting With Ontario Universities
There are many ways that students can connect with Ontario Universities to decide which school might be right for you. There are online resource databases where students can look up programs across universities, compare them, and learn all about admissions requirements for those schools. 
As well, there are both physical and virtual fairs that you can attend to learn more information. For example, on October 1st and 2nd there is an Ontario Universities Fair that student can check out at the Metro Toronto Convention Centre. There are regional university fairs at different locations throughout Ontario. On October 11th, November 9th and December 1st there is also a virtual information session that students can attend.
OUAC and Ontario Virtual School
Even if you're attend a virtual high school you can apply through OUAC. For our full-time senior students, OVS will create your OUAC pin which will allow you to create an OUAC account that you can use to apply to university. When you receive midterms and final report cards, we can directly upload your grades to your OUAC profile.
For students studying with OVS part-time, your full-time day school will be responsible for creating your OUAC account. However, we are able to update your grades for courses taken with us by sending them directly to OUAC.
In order to do so, you must add OVS as one of the schools you're attending in the "Academic Information" section of your OUAC account.
If you are a 105 student, we will not update your OUAC directly as the grades will not be accepted. However, we can send your grades to the individual schools you're applying to. All we need to send your grades is you student number and a contact email.
For both 101 and 105 students. It's important when requesting your report cards that you indicate which type of applicant you are as this will let us know how to upload your grades. If you're a 105 make sure to include the necessary contact information in the contact section of the report card request form.

For students interested in going to college you'll be apply through the Ontario College Application Service (OCAS). In order to apply OCAS, you can just go to the ontariocolleges.ca to apply. If you need grades sent to OCAS, OVS can do that. All we need from you is your OCAS application number, which you can input when requestion report cards.
Whether you plan to go to University or College, OVS can help make your post-secondary educational goals happen.