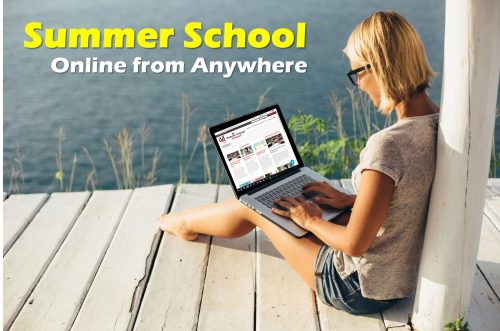 LOOKING TO COMPLETE CREDITS OVER THE SUMMER?

Register between July 1st and August 5th to complete any course in as little as three weeks through our accelerated summer school offerings! For more information, contact our office or email [email protected].
FOLLOW US ON SOCIAL MEDIA

Be sure to follow OVS on Facebook, Twitter, and Instagram.
We post deadline and scholarship information, study tips, discount codes, as well as fun giveaways where you can win prizes just by tagging your friends! Prizes include Amazon gift cards, tech gifts, and lots of other cool stuff!
WE'VE EXTENDED OUR HOURS!

The OVS office will now be open every weeknight until 9pm to better serve your needs.

Please note that due to finals season, teachers and administration will be experiencing high volume. Consult with your instructor about email and marking response times.
MEET MS. MILBURN

Hi, my name is Taylor Milburn and I am a math teacher with OVS! I knew from an early age that teaching was the career for me, as I have always enjoyed helping others achieve success. For the past 3 years, I have been teaching Grade 9, 10 & 11 Math, although I am also qualified to teach Biology, Chemistry & Phys-Ed.

As well as being a teacher, I am also a lacrosse coach and have my own handmade jewelry business, which I started about a year ago. In my free time, I love to play lacrosse, try out different hiking trails and, most importantly, spend time with my family and friends.

Ms. Milburn is currently accepting new students for MPM2D and MCF3M.
Copyright © 2019 Ontario Virtual School. All rights reserved.
Contact Us if you have any questions
View a list of our Courses
Register for a Course
Frequently Asked Questions