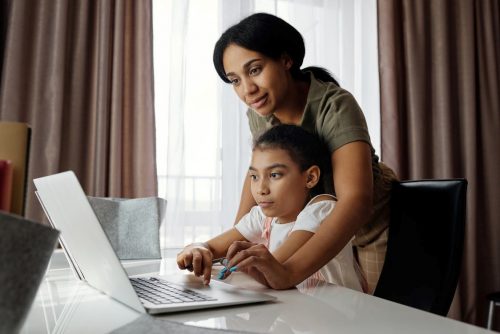 With the tumultuous 2020 school year, many families have been exploring beyond traditional models of schooling. One option that may come to mind for many is home-schooling. However, while home-schooling offers many advantages when compared to traditional schooling, it also features its share of drawbacks. Luckily, modern technology has given rise to a new form of learning; one that provides many of the same benefits as home schooling, with fewer drawbacks.
Here's how online learning shapes up as the new and improved alternative to home-schooling!
Personal Safety
In our current COVID-climate, one of the major factors influencing families to consider home-schooling is safety. Naturally, homeschooling allows for effective social distancing, particularly when compared to current return-to-class plans, which will crowd dozens of students and faculty into traditional classrooms with little to no distancing. Yet, home-schooling is not the only option that provides this piece of mind. E-learning allows students to engage and share ideas with peers and certified teachers, all the while maintaining a safe distance and minimizing personal risk.
Commitment vs. Convenience
Although the flexibility of home-schooling is attractive to many families, enjoying this flexibility requires a significant degree of commitment. To ensure your learner is meeting the necessary progress points to earn credit for their in-home learning, parents must be diligent in preparing and compiling proper resources for all required subject areas. This level of planning and delivery takes a lot of time – time the average family simply does not have.
Through an accredited online school, like Ontario Virtual School, students are given the same degree of flexibility in how they learn, with convenient any-time access to all the courses they need to earn their Ontario Secondary School Diploma. At OVS, all our courses following the Ontario curriculum and are taught asynchronously by OCT-certified teachers. With online learning, families can be confident that they are receiving a quality education, without the significant time commitment of having to research and deliver it themselves!
Proper Credentials
Home-schooling is a popular option for students who find traditional instruction models challenging. Unfortunately, Ministry regulations can make it difficult for homeschoolers to earn the proper credentials they need to obtain their high school credits and the Ontario Secondary School Diploma. With Ministry-inspected online learning platforms like OVS, these concerns are alleviated, without sacrificing the flexible and accommodating instruction and assessment models many students need.
Our certified teaching staff ensure that all curriculum-based assessments are designed and graded in a timely manner, providing helpful feedback within 48 hours. Our professional administrative team then ensures that all credits earned are properly processed and forwarded where they need to go to ensure all post-secondary paths remain open!

So, if you are looking for an alternative to traditional schooling to keep your family safe this September, consider the convenience and assurances e-Learning can provide. Let OVS help you make this year about success, not stress.