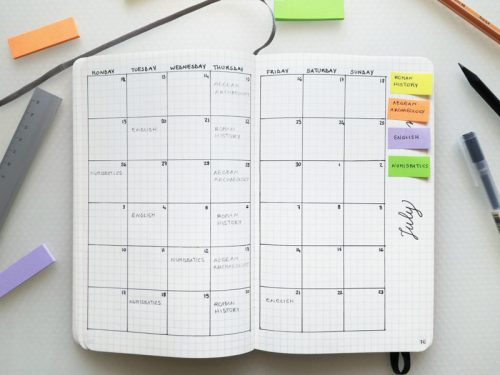 If you've recently made the switch from a traditional semester-school to taking all (or most) of your courses online, the flexibility we offer might seem a bit overwhelming! Not to worry, OVS is here with some tips on establishing a study schedule that will help keep you on track across all your courses.
First things first, it's important to decide how many courses you feel comfortable working on at a time. You might prefer to focus your attention on just one or two courses per month, working through each course in succession. Or perhaps you'd rather stick to the semester-style pacing of working on 4 courses over a period of four months. Or maybe you crave variety, so taking 8 courses and working your way through all of them at the same time would be more your style.
Whatever you decide, just keep in mind that you must be enrolled in a course for a minimum of 30 days before you're eligible to request your final report card, and you have up to 12 months to complete! If you've sign up for more courses than you're confident you can complete in one year, or just don't want your time to expire in courses you're not actively working on, simply get in touch with us to have one or more of your courses put on hold until you're ready to start!
Once you have your courses and overall pacing set, it's time to work on creating a personalized study schedule to get those courses done on time! The best way to approach this is to consult your course handbooks (attached to your welcome email) to determine the breakdown of each of your courses. Then, divvy the lessons and assignments based on your preferred pace. To do this, you'll have to decide whether you're going to work on your courses every day, a couple times a week, or maybe just on the weekends. If you need help creating your study schedule, Sarah, our director of student success, is always willing to help! And remember, there's no right or wrong answer here! It all comes down to what works best for you.
That said, whatever you decide, it's always a good idea to create a regular routine with dedicated days &/ times to log on and work through your courses. After all, the flip side of flexible learning is that it's easy to get caught up with life's other tasks and let your e-work fall to the wayside! Of course, our dedicated staff will check in on you each month if we notice you're falling behind, but why not take charge early and be your own boss from the get-go?
At OVS, we know how rewarding (and effective!) it can be to march to the beat of your own drum, which is why we've made providing quality, student-centred learning our #1 goal!