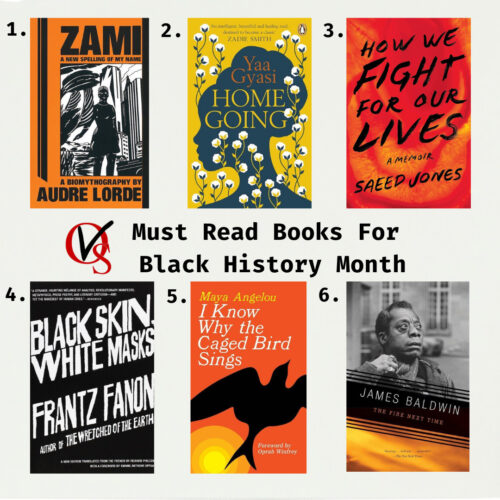 In honour of Black History Month, we're highlighting some amazing Black authors. Be sure to add these great books to your must-read list!
Audre Lorde – Zami: A New Spelling of My Name
Zami: A New Spelling of My Name is an autobiography by the iconic poet Audre Lorde, and a love letter to the black women in Lorde's life. According to the New York Times, with this book, Lorde is credited with birthing a new genre of memoir called "biomythography," which combines history, biography, and myth. Lorde writes that "Zami" is a "Carriacou name for women who work together as friends and lovers." Carriacou is an island of the Grenadine Islands, where Lorde's mother immigrated from.
Yaa Gyasi – Homegoing
In this stunning debut by Ghanian-American novelist Yaa Gyasi, readers meet the descendant of an Asante woman named Maame through her two daughters, separated half-sisters. One sister, Effia marries the British governor in charge of Cape Coast Castle, where her sister Esi is tortured and held captive in the slave dungeons right below her. Homegoing follows these two families, separated by the brutality and complexities of the Trans-Atlantic Slave Trade.
Saeed Jones – How We Fight for Our Lives
Winner of the 2019 Kirkus Prize in non-fiction, Saeed Jones's beautiful memoir tells how he — as a young, black, gay man from the South — had to fight to claim his own identity. Exploring complicated relationships with his family, friends, and lovers, Jones paints a compelling portrait of the beauty of queerness, race, love, and self-actualization.
Frantz Fanon – Black Skin, White Masks
If you want to delve into anti-colonial thought, Frantz Fanon — a psychiatrist and intellectual from Martinique — is required reading. Black Skin, White Masks explores Fanon's own experiences, as well as the history of colonialism and its dependency on domination, racism, dehumanization, and genocide. Fanon takes a look at how these forces impact the human psyche of both the oppressor and the oppressed, particularly when it comes to internalized conceptions of inferiority.
Maya Angelou – I Know Why The Caged Bird Sings
This essential autobiography, the first in a seven-volume series, details the early years of acclaimed writer and poet Maya Angelou. A coming-of-age story, I Know Why The Caged Bird Sings, shows readers how Angelou overcame her horrendous experiences with racism and sexual trauma.
James Baldwin – The Fire Next Time
For such a famous book, it may surprise some to realize that The Fire Next Time contains only two essays: "My Dungeon Shook — Letter to my Nephew on the One Hundredth Anniversary of the Emancipation," and "Down At The Cross — Letter from a Region of My Mind." The first essay is a letter to Baldwin's 14-year-old nephew, and it explores how race has shaped America's ugly, brutal history. The second is an examination of the interplay between race and religion, particularly the black Christian church and the fast-spreading Islamic movement at the time.
Reviews and selection of Black authors credited to N. Burton.