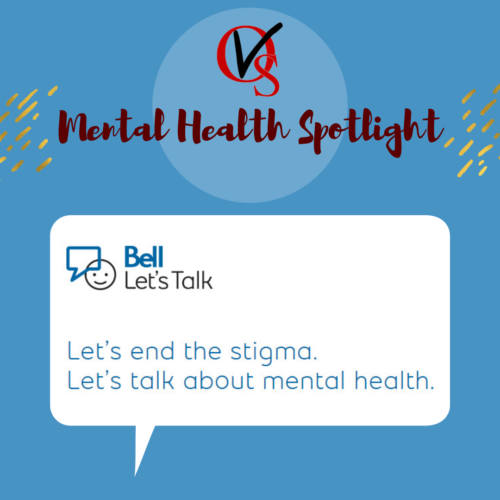 Today we take part in Bell Let's Talk Day. Let's join together to end the stigma!
Coping with Stress and Anxiety
During this time, it is really important to take care of yourself and pay attention to your mental well-being.
Here are some tips from the Canadian Psychological Association to manage stress and anxiety:
Take care of your body:
Take deep breaths, stretch, or meditate. Try to eat healthy, well-balanced meals, exercise regularly, get plenty of sleep, and do not increase your consumption of alcohol and drugs. YouTube can be a great place to find at-home workouts, guided meditations, or tips and tricks on cooking nutritious meals.
Take care of your mind:
To cope with times of uncertainty, it can be easy to dive into a series, watch movies endlessly or jump on board with other mindless distractions for long periods of time. While this does help us escape current realities, it can feel unproductive and potentially unhealthy to disengage for too long. Consider, instead, choosing distraction activities that keep your mind thoughtful and stimulated. Is there a list of books you would like to read? Are there some podcasts that were suggested by like-minded friends? Consider listening to audiobooks while completing chores or other projects to keep yourself active throughout the day. Try to consciously choose the information you take in, such as historical or biographical reads, and watch out for those distractions that are engaged in out of convenience.
Connect with others:
Your community is there for you in times of physical distancing. Connect with your loved ones and people you trust about your concerns and how you are feeling. Apps like Skype, FaceTime and WhatsApp allow you to call your friends and family through an internet connection so you don't have to use your phone plan minutes.
Ask for help:
Call a health care provider such as a psychologist, social worker, counsellor, family physician, or psychiatrist, if stress gets in the way of your daily activities for several days in a row.
Added Supports for Students Living Abroad
International students can have a harder time connecting with family abroad due to possible unstable internet communication. Here are some other ways to stay connected with your community:
Reach out to a classmate:
Chatting with peers can open doors to deeper connections and friendships. At this moment, a lot of people understand the need for connection and are open to making new friends!
Join an online group for international students:
You are not alone. There are many international students in Canada going through similar experiences and coming together. Check out these Facebook groups: International Student Network (there is one for each country!) and Migrant Students United!