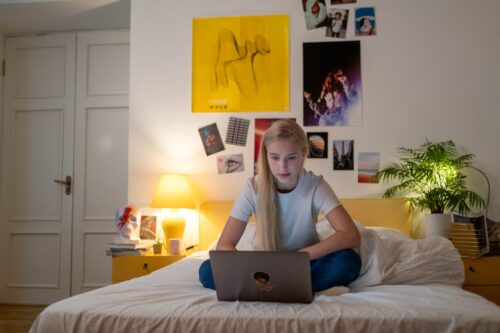 More parents are pulling their children out of classrooms and starting homeschooling than ever before. If you like the appeal of homeschooling for your teen, but you don't want to be a homeschool teacher, don't worry — there's a simple alternative out there. That simple alternative is online schooling.

The Trouble with Homeschooling
One of the biggest issues with homeschooling is that it demands a lot of effort from you, the parent. Unless you have a background in education, you might not have any idea what secondary school curriculum entails. You may have to relearn subjects that you have long forgotten.
At least when your teen attends a classroom in person, you know that they're going through their coursework with a trained professional that is familiar with the curriculum.
Another issue is that homeschooling hours can clash with your career. Teaching your teen will be a full-time commitment, and if you're already juggling a full-time job, you won't have much time to do anything else. Your schedule will be packed, and you'll likely burn out from overexertion. This will have consequences for you and your teen.
The Alternative to Homeschooling
A simple alternative to homeschooling your teen is to sign them up for an accredited, ministry-inspected online school. This type of online school will offer a wide variety of courses, like MHF4U, created by certified teachers. The school's course catalogue will have all of the courses needed to earn an Ontario Secondary School Diploma (OSSD).
Online schooling is the perfect compromise between in-person schooling and traditional homeschooling. It allows your teen to get their education at home but still get professional support from teachers. This also offers you some stress relief! As a parent, you don't have to push yourself to become an expert in every single secondary school subject.
You don't have to pause your career either, especially when you work from home. Your teen can complete their work without your instruction or supervision.
Finally, one of the best benefits of enrolling your teen in an online school full-time is that you don't have to submit a letter of intent to your local school board every year. Submitting a letter of intent is an annual responsibility for parents that want to homeschool their children. The province's policy on homeschooling states that a school board has a right to investigate you if you do not submit this letter.
The Popularity of this Alternative
Online schooling has grown in popularity in recent years. One reason for this popularity is the COVID-19 pandemic. School closures forced classrooms to go online for the health and safety of their students. Since COVID-19 restrictions are loosening around the country, students are returning to in-person classrooms. However, some parents don't want them to return. They want them to stay home to minimize their children's chances of catching the virus.
Some parents are also looking to online schooling because they found that their teens prefer it! They don't want to push their kids back into the classroom when they don't want to be there.
Online schooling can be really useful for students who can't handle noises and distractions in a classroom. Working from home could help them focus on their tasks without getting overwhelmed. It's also a great solution for any teens that have dealt with bullying or rejection from their peers. This learning environment could be positive and stress-free.
Any parents that are on the fence about homeschooling should look into this alternative. It could be the best option for you and your teen.