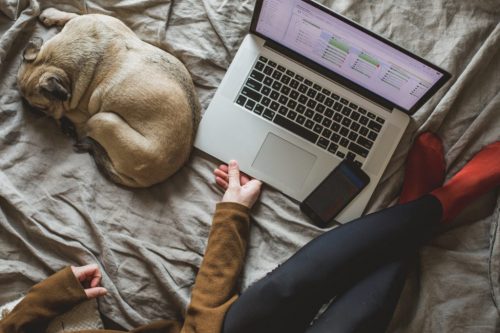 Online schooling is very different from traditional schooling, so we understand if you're a little hesitant in making the switch! However, if you do decide to test-drive online learning with us, you can rest easy knowing that our students love the online learning environment we provide! With certified teachers ready to provide feedback and assistance along the way, Ontario Virtual School is a ministry-accredited institution offering the same curriculum and quality of education as you would receive in a traditional brick-and-mortar school, without the need for bricks and mortar! Still not convinced? No problem! Keep reading to discover the top 5 reasons you should give online learning a try!
#1 – You'll become the boss of your own learning!
If you ask any of our students, we guarantee they'll agree that the greatest benefit of taking a course through us is the ability to work at your own pace and determine your own schedule. At OVS, we allow our students to complete any course in as little as *three weeks through our summer school registration – open from now until August 5 – but we also give students the option to take up to one full year to complete their course. This ability to work at your own pace encourages concept mastery and reduces test-stress by allowing students to decide when they feel ready to complete assessments. It's also perfect for students with multiple commitments and things on the go: with 24-hour access from anywhere in the world, our courses allow you to study when it suits you best, without fear of falling behind!
#2 – It's suuuper flexible
Okay, I know you're thinking this seems kind of the same as #1, but trust us, we're flexible in more ways than one! At Ontario Virtual School, our students determine where they study, when they study, and how long they study for, with very few limitations! This means that if you choose to take a course with us, you have the option to write a test from a beachside resort in Bali at 3 am EST – but really, we're not sure why you would ever choose to do that, and with up to one full year to complete any of our courses, you should never have to! And as an added plus, if you wait 'til you get home to write your test, you can have your pup beside you for moral support (and cuddles) while you write – we think that's a pretty sweet perk all on its own!
#3 – Individualized learning means no peer judgement and greater chance of success!
Traditional classrooms typically cater to the "average" student, leaving those at the top of the class feeling bored and under-stimulated, while those who require more attention are left to fall through the cracks and become discouraged. With online schooling, each student works and studies at their own pace, with instructors available to provide one-on-one support as often as you need it, with no fear of judgement from your peers. And do you know what happens when you take away the social stigma of asking too many questions or receiving extra help after hours? Students who would otherwise struggle in silence reach out and receive the guidance they need to achieve the results they deserve!
#4 – Tackling a tough subject online is a great way to improve your chance of success!
Although our online courses teach the same material as traditional day schools, our method of delivery and flexible pacing allow students to achieve greater success in even the most difficult of subjects! At OVS, we encourage students to master concepts before moving forward in the course, and with unlimited playback on all our lessons, students have the ability to go over new concepts as many times as they need! Plus, with continuous enrollment available 365 days a year and accelerated summer school options, students can choose to work through difficult courses whenever they have the most time available to dedicate to their studies. Often, students will opt to save their toughest course until summer to allow them to really focus, without the added distraction of extra-curriculars or the stress of a full course-load.
#5 – If you're more introverted, online learning may be perfect for you!
Does your lack of in-class participation drag your marks down? If you're an introvert, this is often the case in traditional classrooms, where students are expected to consistently and spontaneously respond to questions for participation marks. In an online environment, this is simply not a factor. Even for courses that do include discussion board activities, students are giving ample time to prepare their answers, which many introverts highly beneficial, as they are able to better organize their thoughts and carefully construct their responses prior to posting. Another benefit of online education for introverted learners is the freedom to "attend" class in a quiet, private location, which allows them to really focus on the material.
All things considered, online schooling offers benefits that simply cannot be found in traditional day schools – I mean, just consider all the transferable skills you'll learn along the way, with no extra effort required! It's no wonder experts are suggesting that e-Learning may very well be the way of the future. Still not sure our courses are right for you? Head on over to our website to see for yourself why so many students are choosing to take courses online through OVS!
*Accelerated 3-week summer school option available to all students who register between July 1st – August 5th.
Standard minimum completion time is 4 weeks.
Contact Us if you have any questions
View a list of our Courses
Register for a Course
Frequently Asked Questions