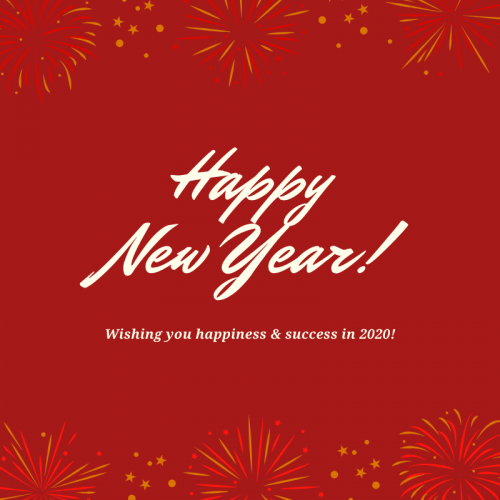 With the start of a new year just around the corner, it seems like everyone is reflecting on what they want to accomplish in 2020. Many will dutifully add "make more time for exercise," "eat out less," and "spend more time with family" to their list for the Nth year in a row. Well, what if we told you there was a resolution that would help make it easier to finally accomplish all those things this coming year? In this week's blog, OVS unwraps 12 reasons we believe taking an online course is the perfect new year's resolution!
1. Universities Are Looking
With first semester nearly in the books and second semester around the corner for day schools, universities are starting to collect midterms and first semester finals, which means it's a great time for you to register to upgrade your marks or earn that last missing credit!
2. Face Your Fears Online
Tackling a tough subject online can be a great way to improve your chances of success! Although our online courses teach the same material as traditional day schools, our method of delivery and flexible pacing allow you to achieve greater success in even the most difficult of subjects. At OVS, we encourage all our students to master concepts before moving forward in the course, and with unlimited playback on all our lessons, you can review concepts as many times as you need.     
3. E-Learning is The Way of the Future
We're entering into a new decade, and experts suggest that self-directed homeschooling using blended models may well be the way of the future! What's more, starting September 2020, Ontario students will be required to take 4 of their courses online, so why not set yourself up for success by getting accustomed to the online platform now! Even if you're not attending school in Ontario, countless universities around the world are integrated aspects of online learning into their course offerings, so getting on board with e-learning now will only serve to benefit you down the road.
4. Improve Your Time Management Skills
Everyone wants to get organized and improve their time management come new year's – well, online learning will give you a reason to finally make that resolution a reality this year! With the added flexibility of self-paced online learning comes the added responsibility of managing your time effectively. By taking a course online, you will be forced to hone your time management skills to ensure you are able to complete all the coursework within your chosen time-frame.
5. It Fits Your Schedule
The flexibility of online learning means that no matter what you have on your plate this year, you can customize a learning schedule that works for you! So, if your day school can't accommodate your last-minute course needs, OVS has got your back! And best of all, you're not held to the schedule you choose, so if, like the annual January gym membership, your study schedule drops off a few months in, our Student Success team will simply send you a gentle reminder after 90 days of inactivity, giving you enough time to jump back in and finish your course before the year is up!
6. Create Balance
Are you pursuing your dream of becoming a big-time sports star? Or maybe you're en route to be the next triple-threat on Broadway. Whatever your extra-curricular talents, it can be hard to pursue those dreams outside the confines of traditional day-school hours. Make 2020 the year you take charge of your future! Taking courses online can be a great way to balance your extracurricular interests without sacrificing a quality education that will get you into the post-secondary program of your dreams.
7. Take Step #1 in the Journey to Your Dream Job
Is a career change on your resolution list for 2020? For mature students looking to switch fields, this can often mean going all the way back to high school to earn the all-important prerequisites that post-secondary institutions will be looking for. With OVS, you can sign up and complete a course in as little as 4 weeks, so getting the credits you need to start your journey doesn't need to take all year (but it can – it's all up to you!).
8. Embrace a Growth Mindset
Why not make 2020 a year of personal growth with the help of online learning? Continually learning new things and embracing challenges are cornerstones of the growth mindset. Learn to view problems as vehicles for greater learning and you'll find your overall outlook changing for the better as well!
9. Increase Your Self-Awareness & Independence
With online learning, there won't always be someone reassuring you that 'you can do it' – so you have to learn to be confident in your own abilities, without the need for constant reassurance from third parties. You also need to be aware of your own working style and habits in order to set a realistic working pace for yourself so you can achieve optimal success!
10. Improve Your Communication Skills
E-learning teaches you to communicate your thoughts appropriately and efficiently, without the aid of visual cues. Whereas shorthand and slang typically rule the virtual domain, taking courses online reinforces the need for a particular level of email etiquette when communicating with instructors, administrators, and other students via discussion boards. Developing these kinds of professional communication skills will undoubtedly help you through the technological 20s and beyond!
11. Broaden Your Perspective
A new year means it's time to expand your comfort zone by trying new things, right? Well, online learning can be a great way to do this! Take an elective course in something you've never studied before and learn something new – all while earning a credit that can go on your resume! Plus, because of its flexible online platform, e-learning brings together students from all different backgrounds and encourages them to communicate with each other using online discussion forums. Engaging in e-learning can be a great way to broaden your perspective on topics you thought you knew!
12. Furthering Your Education is Never A Bad Idea!
Whether it's improving your marks for post-secondary, shifting your career path, or just for interest's sake, taking a course online is always worth your while! Investing in yourself and your education is an expense that will pay dividends down the line.