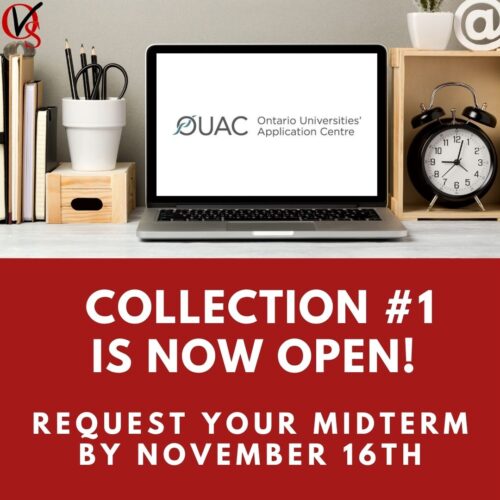 OUAC's first collection period is currently open for first semester midterms and any finals achieved thus far. If you would like a midterm or final mark posted during this collection, please be sure to have all required work submitted to your teachers no later than November 16. We will then have your mark updated by November 19.
Note that this is the first of three collection periods, and is primarily intended for students seeking early admission offers. For most students, the majority of your marks will be updated in the later collections, so don't stress if you are not ready to submit marks in this collection period. For a full list of OUAC's collection dates for 2021-22, please see OUAC's Grades Collection Chart or our OUAC Information page.
IMPORTANT: In order for us to update OVS enrollment or marks to your OUAC profile, you must first add "Ontario Virtual School" as an additional school within the Academic Background section of your 2021 OUAC Account. Please see OUAC's Tutorial #3 between 1:45-2:10 for a step-by-step run-through of this process.
If you have already added OVS to your OUAC account but do not see your current OVS enrollment or marks listed, please contact [email protected]