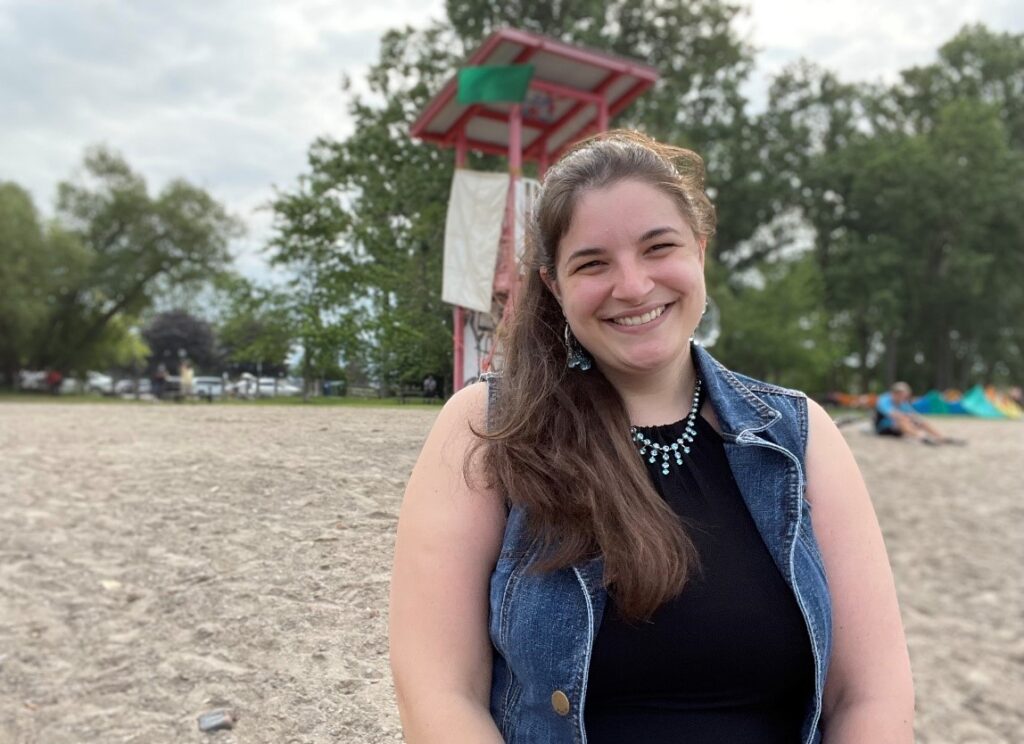 First Off, Where Are You From And Where Did You Grow Up?
I grew up in Toronto and have stayed in the city throughout my life.
Where Did You Go For Post-Secondary And Your Teaching Degree? What Did You Study/Specialize In?
I completed my Honours Bachelor degree from York University as an English Major and History Minor. I completed my Masters of Teaching degree from the Ontario Institute for Studies in Education, a division of the University of Toronto. I have also done additional qualification courses specializing in Guidance & Career Education.

How Long Have You Been Teaching In Total? How Long Have You Taught With OVS?
I have worked as a Middle and Senior school teacher for the past four years and I am just beginning my journey teaching with OVS!
When Did You Realize You Wanted To Become A Teacher?
I knew that I wanted to be a teacher for as long as I can remember, I was always the first person to try and share the knowledge that I had with those around me no matter what the situation or job was. My very first students were my younger siblings as I helped them with their homework when they needed it after school. I love seeing the joy on someone's face when that understanding clicks!
Do You Prefer Teaching Online Or In A Classroom? How Do They Compare?
There are many differences to teaching online and in a traditional classroom but one thing that always stays the same is the way that I help students reach the understanding that they need to develop the skills necessary to be successful! I have enjoyed my time transitioning to online teaching because I like the flexibility that it offers students so that they can manage their time to what works best for their learning style and needs.
What Are Some Of Your Favourite Pastimes, Aside From Teaching?
I am an avid reader, and you will always find me reading multiple books from different genres at once! When I'm not reading you can usually find me in my garden at home, playing soccer, painting, or writing stories.
What Is The First Thing You Would Do Or Buy If You Won The Lottery?
If I won the lottery, one of the first things I would do is set aside enough money to build wells around the world. My partner and I strive to save enough to build at least one well in a developing country each year because having access to clean drinking water is a human right that too many people go without. Access to clean water is one of the first steps in also achieving gender equality in many countries because it is often young girls who are sent to collect water for the family, and they are unable to go to school because of this. Clean drinking water is the first step in improving the quality of life of for many people around the world.
If You Couldn't Be A Teacher, What Career Would You Most Like To Have?
If I wasn't a teacher I would still be in learning and development in some way because I really enjoy helping people learn. I also enjoy doing quite a few different creative things like singing and painting so I may have tried to pursue a career as an artist eventually too.
As An English Teacher, What Is Your Favourite Genre To Read When You Read For Fun?
When I am reading for fun, I enjoy reading all kinds of different genres! I like reading poetry, but I can get really lost in fiction books that create whole new fantasy worlds. Kelley Armstrong and Patricia Briggs are my two favorite fantasy authors and I enjoy reading all the different series that they've created.
What Is Your Favourite TV Show?
I don't watch much TV but when I do I enjoy watching shows like Bob's Burgers or any kind of Disney movie.
What's One Fun Fact About You That Your Students Might Not Expect?
One fun fact is that I am a published audiobook narrator and producer, I have one audiobook out so far, but I plan to create more in the future.
What Is One Piece Of Advice You Would Like To Share With Your OVS Students?
One piece of advice that I would like to share with my students is that the effort you put into taking care of yourself will pay off for you tenfold! Too often we feel busy with tasks that we need to complete, and we sometimes forget to do the things that are not related to achievements but bring us the most joy. Your wellness is just as important as doing well in school. Give yourself permission to sit and read something for fun, exercise, play sports with your friends, journal or do whatever it is that makes you feel good. Taking care of yourself will put you in the best state of mind for learning! It is okay to reach out for help from your teacher for more than just subject specific questions, we are here to help you in any way we can!