Ontario Virtual School (OVS) is an accredited online virtual high school operating since 2010. Our school has grown to an annual student population of 5000. OVS has been inspected by the Ontario Ministry of Education.   We provide a rich variety of online virtual high school OSSD credit courses leading to an Ontario Secondary School Diploma(OSSD). OVS students register for a wide range of reasons, all of which signal the diversity of needs that OVS is serving. Many of our students are looking to add a few courses in addition to their current school work. Some are striving to upgrade existing marks. We also support mature students, international students, and those who are scheduling around other commitments. Some of our students include elite athletics and professional models.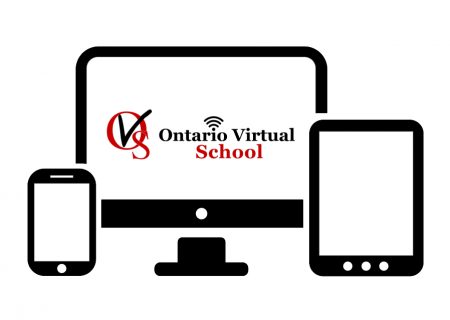 Our students can register for an online course at any time of the year. Students can complete a course at home in as little as 4 weeks or take up to 12 months. Student have 24/7 access to our online course content. This allows for students to develop their own pace and schedule. All learning materials and textbooks are included in the course fees.
OVS promotes students to achieve their highest academic potential at a pace and timing that best supports their personal learning style. We recognize that every student learns in his or her own way. OVS values the importance of successfully completing a secondary education and offers students an alternative means of achieving that.
Ontario Virtual School believes that good teaching fosters good learning. OVS is committed to this philosophy and only employs certified Ontario teachers who have many years of teaching experience. Our teachers are proud to support learners in a variety of ways. For example, prompt support via e-mail, using fair and varied assessments, and timely feedback and mark updates on evaluations. OVS teachers also ensure the student's grades are reflective of their most consistent level of achievement in the course.
How does it work?
Students may enroll on any day of the year and begin the course immediately. This model allows students to work at their own pace and on their own schedule with the support of qualified teachers.
Register
Access online course and Learn at Home

OVS lessons are fully animated, narrated, and interactive online videos
Courses are accessible online 24/7, 365 days a year from anywhere in the world
Complete required course work
Course work (tests and assignments) are downloaded by the student and once completed, uploaded to the course dropbox.
Students and parents receive on-going feedback and mark updates by email.
Complete final summative/ proctored exam
For courses that have final exams, a proctor will be required.
A proctor is a professional like a librarian, engineer, teacher, etc…who will supervise the student during the exam.
International students may use proctors in their own country.
Receive final report card
A copy of the final report card will be mailed to the student and their home school. At the student's request the report card can be mailed to post-secondary institutions.
Full time students at Ontario Virtual School (OVS)
OVS currently supports a large number of full-time students in the following ways:
Creation and maintenance of Ontario Student Record (OSR) and Ontario Student Transcript (OST)
Pathway planning and career guidance
Administering the Ontario Secondary School Literary Test (OSSLT)
Issuing the Ontario Secondary School Diploma (OSSD)
Assistance with applications to post secondary institutions world-wide
Ontario Virtual School and Homeschooling
Some homeschoolers continue their home-based education throughout the high school years with the support of OVS. Ontario Virtual School works closely with the homeschooler's parents to meet their child's educational goals.
OVS was the best choice for us! They helped my son and daughter to attain marks required for the university admission. We had experience with the grade 12 biology, chemistry, and math teachers who were highly supportive, considerate, flexible, and accommodating. They put their best effort to help kids attain their goals by keeping them motivated and responding quickly to their emails. The admin staff is very polite, knowledgeable and guide you on the right track. We highly recommend OVS to those looking to earn online credits.
Why choose OVS?
Students ultimately work at their own pace
Continuous Entry- that means, students can register anytime of the year and students can complete their courses anytime of the year.
All lessons are interactive and professionally animated. Lessons include voice narration and video multimedia to enhance the learning environment.
Practice quizzes are built in to each lesson which provide instant feedback
Our courses are available 24 hours a day, 7 days a week, 365 days a year
No additional costs for textbooks, learning aids, or other supplements
We charge competitive rates
We can send marks directly to OUAC/OCAS and/or your day school
A simplified registration process that does not require permission from your day school
If you have any questions please feel free to contact us.
Are you ready to register for a course?