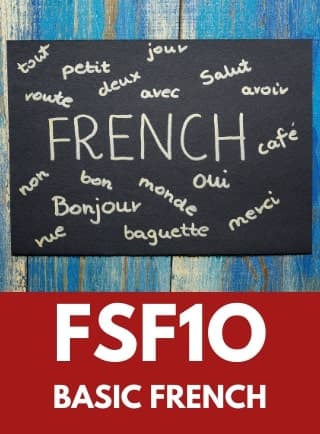 As a school that supports students from various backgrounds, including homeschoolers and international students, OVS recognizes that not all of our incoming students have prior knowledge of the French language. However, as a Ministry-inspected school issuing the accredited Ontario Secondary School Diploma, the French-language requirement must still be achieved for students to graduate.
To allow students with less than 600 hours of prior French instruction the opportunity to graduate with the prestigious OSSD, OVS has developed an introductory Grade 9 French credit that will satisfy the graduation requirement for student who meet this criteria. We are proud to introduce FSF1O: Basic French!
Eligibility Requirements
All new registrants will be required to submit a signed letter confirming that they have completed fewer than 600 hours of French-language instruction. Any student who does not meet the admission criteria will be switched to the Applied French course at no additional charge.
Students who attended elementary school in a non-French speaking region will be automatically considered as eligible. Students who have been homeschooled or who intend to graduate through OVS should speak with OVS Administration to confirm their eligibility prior to registering.
Course Description:
In this course, students will begin to understand and speak French in guided interactive settings, and will develop fundamental skills in listening, speaking, reading, and writing through discussion of issues and situations that are relevant to their daily lives. Throughout the course, students will develop their awareness of diverse French-speaking communities in Canada and acquire an understanding and appreciation of these communities.