OVS2O - Developing Effective Learning Skills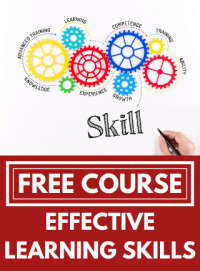 Course Code:

OVS2O
Format:

Online School Course
Prerequisite:

None
Tuition Fee (CAD):

Free
Start:

Anytime
Demo Lesson
Course Description For Developing Effective Learning Skills Online Course
In school and in life, the key to success is having the right tools at your disposal. This first module is designed to help students develop the basic skills they will need to effectively prepare for tests and assignments. It will explore both long-term and short-term strategies for breaking work into manageable chunks and setting aside an appropriate amount of time for studying. Students will also learn how to develop effective reading and test-taking skills. Then, we'll explore five different note-taking methods, allowing students to discover their preferred style. Finally, we will review various writing strategies, including how to write a paragraph, how to use commas properly, and how to write an essay.
OVS2O is specially designed to help you with:
Long term planning!
Reading and Note taking!
Writing Strategies!
Study Skills and Test Taking!
Developing e-learning skills that will allow you to be a confident and active eLearning student in the future!
Increasing your confidence (and reduce your anxiety) when it comes to school in general!
This teacher-supported course is absolutely free!
You can register and start anytime.
Please note: completion of this course will NOT earn you a high school credit. This means that completion of this course will not be included on any current or future high school record or transcript. This course is to be considered as a general interest course only.