OVS3O - Fostering Digital Literacy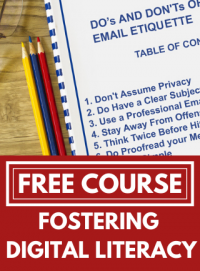 Course Code:

OVS3O
Format:

Online School Course
Prerequisite:

None
Tuition Fee (CAD):

Free
Start:

Anytime
Demo Lesson
Course Description For Fostering Digital Literacy Online Course
Today's generation use internet search engines every day, but do they know how to use them to find valid academic sources? This module will help students explore various online tools that make researching easier and more effective. We will also explore the concept of netiquette. Students will learn how to properly communicate through email, both professionally and informally. Finally, students will be educated on the dangers of plagiarism and how they can avoid developing the kinds of bad habits that may lead to it! Related citation and formatting styles, including MLA, will also be discussed.
OVS3O is specially designed to help you with:
Netiquette
Plagiarism Prevention
Writing Strategies
Proper Internet Research
Checking Internet Validity
Developing e-learning skills that will allow you to be a confident and active eLearning student in the future
Increasing your confidence (and reduce your anxiety) when it comes to school in general!
This teacher-supported course is absolutely free!
You can register and start anytime.
Please note: completion of this course will NOT earn you a high school credit. This means that completion of this course will not be included on any current or future high school record or transcript. This course is to be considered as a general interest course only.