NDW4M - Grade 12 Indigenous Issues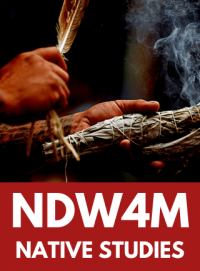 Course Code:

NDW4M
Course Type:

University/College Preparation
Format:

Online School Course
Prerequisite:

Any Grade 11 or 12 university (U) or university/college (M) preparation course in Social Sciences and Humanities, English, or Canadian and World Studies.
Tuition Fee (CAD):

$549
Course Description For NDW4M Grade 12 Indigenous Issues Online Course
In Grade 12 NDW4M online course, students examine global issues from the perspectives of Indigenous peoples, investigating topics such as identity, social justice, human rights, spirituality, resilience, and advocacy for change. Students draw on the depth and diversity of Indigenous cultures, traditions, and knowledge to consider how Indigenous communities around the world persevere despite current global political, social, and economic challenges.
Students learn about the threats to cultural survival posed by trends such as the loss of land as an economic base, environmental decline, lack of sovereignty/self-governance, the legacy of colonialism, globalization, language loss, and gender-based discrimination facing Indigenous women and girls. By encouraging students to examine the political, economic, and social context for a variety of interactions between Indigenous and non-Indigenous populations in several regions of the world, NDW4M online helps students build knowledge and skills that prepare them for meaningful participation in a globalized society.
As students make connections between contemporary global issues and cultural survival, they learn that all cultures benefit when Indigenous values, rights, and aspirations are respected. Students not only explore the impact of global trends on Indigenous lives and lived experiences but they also discover ways in which Indigenous knowledge and leadership can support efforts to address issues affecting all peoples. Students may investigate the benefits of incorporating Indigenous perspectives into resource management, for example, or of employing Indigenous leadership approaches within organizational structures. By exploring the values reflected in Indigenous concepts such as the two-eyed seeing model and planning for future generations – and by investigating how these values can guide approaches to the complex issues facing nations and peoples around the world – students extend their understanding of the contributions that Indigenous cultures make, and the value they add, to the global community. They also develop their awareness of the critical importance of building relationships based on truth and mutual respect.
Summary Of Units And Timelines For Grade 12 Indigenous Issues NDW4M
Below is the suggested sequence of course unit delivery as well as the recommended number of hours to complete the respective unit.
Unit Order
Unit Name
Suggested Time
Unit 1
Identity
25 Hours
Unit 2
Relationships
25 Hours
Mid Semester Point
Unit 3
Sovereignty
20 Hours
Unit 4
Challenges
20 Hours
Final
Course Culminating Activity
20 Hours
Total
110 Hours
Fundamental Concepts Covered in Grade 12 Online Course
This course provides students with an overview of the issues and challenges that confront indigenous peoples worldwide. Students will develop an understanding of the concerns and aspirations of the world's indigenous population, plan and conduct research on global issues that have an impact on indigenous peoples, and use information technology to consult materials related to the views of indigenous peoples throughout the world.
Teaching and Learning Strategies in an Online School
Teachers will bring enthusiasm and varied teaching and assessment approaches to the classroom, addressing individual students' needs and ensuring sound learning opportunities for every student. The activities offered should enable students to relate and apply these concepts to the social, environmental, and economical conditions and concerns of the world in which they live. Opportunities to relate knowledge and skills to these wider contexts will motivate students to learn in a meaningful way and to become life-long learners. Teachers will help students understand that problem solving of any kind often requires a considerable expenditure of time and energy and a good deal of perseverance. Teachers also will encourage students to investigate, to reason, to explore alternative solutions and to take the risks necessary to become successful problem solvers. Effective instructional approaches and learning activities draw on students' prior knowledge, capture their interest, and encourage meaningful practise both inside and outside the classroom. Students will be engaged when they are able to see the connection between the scientific concepts they are learning and their application in the world around them and in real-life situations. Due to its importance, students will have opportunities to learn in a variety of ways- individually, cooperatively, independently, with teacher direction, through hands-on experiences, and through examples followed by practice. The approaches and strategies teachers use will vary according to both the object of the learning and the needs of the students. Teachers will accomplish this in online environment with the use of: virtual labs, online simulations, animations, videos, discussion forums, live chat and other interactive objects.
Accommodations for students with an IEP in an online high school
All students can succeed. Some students are able, with certain accommodations, to participate in the regular course curriculum and to demonstrate learning independently. Accommodations allow access to the course without any changes to the knowledge and skills the student is expected to demonstrate. The accommodations required to facilitate the student's learning can be identified by the teacher, but recommendations from a School Board generated Individual Education Plan (IEP) if available can also be consulted. Instruction based on principles of universal design and differentiated instruction focuses on the provision of accommodations to meet the diverse needs of learners.
Examples of accommodations (but not limited to) include:
Adjustment and or extension of time required to complete assignments or summative tasks
Providing alternative assignments or summative tasks
Use of scribes and/or other assistive technologies
Simplifying the language of instruction
Frequently Asked Questions
What is NDW4M?
NDW4M is a Grade 12 Native Studies course at a University/College preparation level.
What are 4M courses?
4M refers to the Grade level of the courses and the pathway. 4 means it is a grade 12 course and M means it is a university and college preparation course.
What is the prerequisite course for NDW4M?
Prerequisite: Any Grade 11 or 12 university (U) or university/college (M) preparation course in Social Sciences and Humanities, English, or Canadian and World Studies.
How long does it take to complete the NDW4M online course?
At Ontario Virtual School (OVS) you can complete an online highschool credit courses as quickly as 4 weeks, or take as long as 12 months.
Will my marks be sent directly to OUAC or OCAS?
Yes, we can send the marks for your online courses directly to OUAC, OCAS, your home, and to your day school.