Ontario Virtual School (OVS) has extended its longstanding online high school program to include core content courses in grades 7 and 8. These middle school courses are an excellent alternative or supplement to traditional schooling.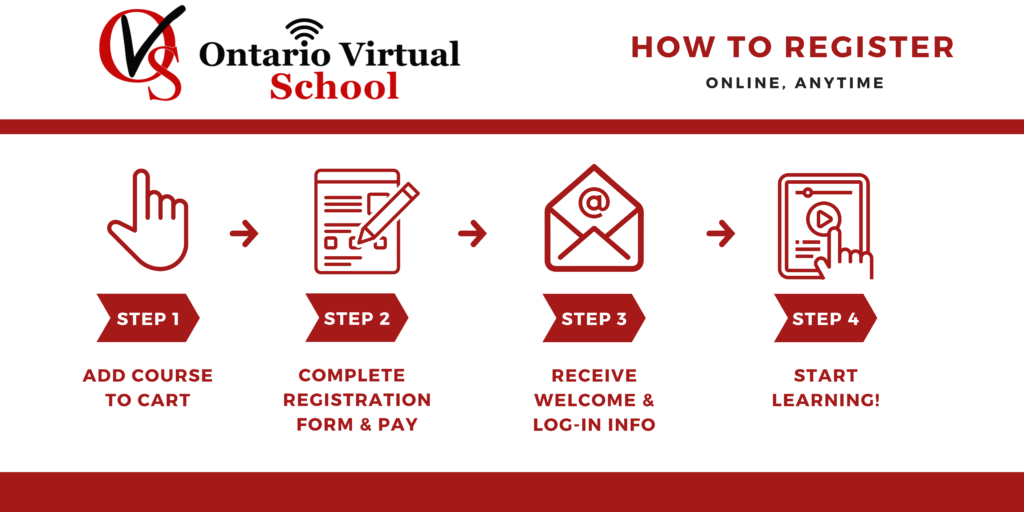 Our Grade 7 and 8 courses can be taken to…
• Act as a primary source of learning to support parents who are homeschooling
• Supplement traditional classroom education by reinforcing necessary concepts and skills
• Support students with transition to online learning in high school
The OVS Advantage
These middle school courses will mirror the quality, support, and flexibility of our high school programming, with the many advantages that come from our unique format!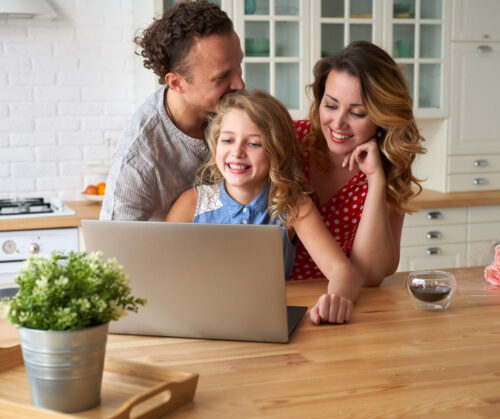 Continuous enrollment: Register and begin learning any day of the year
24/7 Access: Watch lessons anytime with our asynchronous format
Self-paced: Set your own schedule & work at the pace that's right for you
Teacher-led: Courses are designed & supported by OCT-certified teachers
Parent Access: Monitor your child's learning with a separate parent login
Fully Online: Complete a course from anywhere the web reaches you
Quality Lessons: Engaging & interactive video-based content
Flexible Timeline: Complete in as little as 1 month, or take up to 1 year
Ministry Approved: Receive an official report card upon completion
FAQs for Middle School Registration
Can students take an OVS course while attending a public elementary or middle school?
Yes. OVS's middle school courses are designed to supplement or reinforce the material taught through traditional classroom environments. Note, however, that students cannot selectively unenroll from specific courses at their day school by taking those individual courses through OVS. They must continue attending all required courses through their day school, using OVS content as an added resource to support further learning and understanding of key concepts.
Alternatively, students may choose to withdraw from their day school and use OVS content to support a parent-led homeschooling curriculum. In this case, parents must submit a letter of intent to the school, declaring their intention to homeschool the child. More information on homeschooling can be found here.
Will my child receive a credit for this course?
In Ontario, credits are not issued at the elementary level. Instead, upon completion of all course requirements, students will be issued a final report card that will serve as proof of course completion.
Can students attend a public or private high school after completing middle school with OVS?
Absolutely. Upon completion of courses, OVS will provide students with an official final report card, which can be forwarded to any public or private high school. Often, Grade 8 students with OVS will choose to continue their studies with OVS, to learn their Ontario Secondary School Diploma online.
How do students communicate with their teacher?
Students can reach out to their teacher via email throughout the course with any questions they have along the way. Their teacher will respond within 24 hours, though students can expect a more immediate response during the teacher's listed office hours.
How do assignments work?
At OVS, we believe strongly in using varied types of assessments to allow all types of learners to test and demonstrate their knowledge in key areas. Students can expect the same variety of assessment types as they would experience in a traditional school environment. Completed assignments are then uploaded into a secure Dropbox within the learning portal. Teachers will review these and provide mark updates and detailed feedback within 48 hours.
Do I need to purchase any additional materials?
No! All of the necessary materials will be provided, either directly in lesson attachments (e.g., worksheets and homework tasks) or in a course resource tab (e.g., course texts, practice evaluations, and assessments rubrics).
How will I monitor my student's progress in their course?
During registration, there is a place to include multiple parent/guardian emails. Our system will automatically create a unique parent login, giving you access to all the lessons, attachments, and self-assessment tools included in your child's course. You can log in and track your child's progress, as well as any marks earned and feedback given, at any time! Read more about our parent portal here.
How long does it take to complete a course?
The minimum time for completion is 4 weeks, but students can take up to one full year to work through the materials, if needed. As a self-paced program, students are able to proceed through their courses as quickly or slowly as they like. And, with no set deadlines, students decide when to hand in their assignments, allowing them as much time as they need to ensure optimal success! For students who need assistance creating a study schedule, our student success team is happy to help.
For more FAQs, check out our main page – or give us a call to learn more!