Policy Overview

The Assessment and Evaluation Policy for Ontario Virtual School is consistent with Ministry policy and reflects the vision that Ontario Virtual School has which is that the primary purpose of assessment is to improve student learning. Assessment is the process of gathering information that accurately reflects how well a student is achieving the curriculum expectations in a subject or course. Assessment for the purpose of improving student learning is seen as both ďassessment for learningĒ and ďassessment as learningĒ. As part of assessment for learning, teachers provide students with descriptive feedback and coaching for improvement. Teachers engage in assessment as learning by helping all students develop their capacity to be independent, autonomous learners who are able to set individual goals, monitor their own progress, determine next steps, and reflect on their thinking and learning. Ongoing pre-assessments and formative assessments will be used to provide meaningful feedback about student progress and achievement in order to improve performance. Summative assessments will be used to arrive at the grade.


Course evaluation will be divided into two parts:
70% is based on cumulative evidence of summative evaluations undertaken throughout the semester;
-30% is based on final evaluations which will take place in the final third of the course. Final evaluations may or may not include an exam depending on individual course curriculum policy documents.

At the beginning of the course, students will receive course outlines that will include detailed assessment and evaluation information, and that also outline the percentage breakdown for both the 70% and the 30%. All courses will be evaluated according to the following breakdown: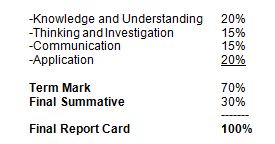 Although each course will have the same breakdown, individual courses may have subject specific summative tasks that will be used to determine the studentís grade. Please refer to the course outline as it is presented in your courses for more details.


Due Dates
It is essential that students review and understand the information provided by subject teachers regarding course expectations, due dates, and consequences for late or incomplete work.

It is the responsibility of students to adhere to deadlines set by their teachers. The decision regarding the final date of submission rests with the teacher and will depend on course programming.

Once the final deadline has passed, the work may not be accepted for purposes of evaluation. A mark of zero may be recorded as a last resort. Every effort will be made by both parties to avoid this consequence.


Missed Summative Evaluations

Teachers will clearly identify the summative evaluations that will be used to arrive at a final grade. It is the responsibility of students to provide evidence of learning by preparing, completing, and submitting each summative activity within the prescribed timeframe. When no evidence of achievement has been provided by the student, a mark of zero will be assigned. In order to minimize missed opportunities for demonstration of learning, students must inform teachers, in advance, of any planned absence (field trip, sporting event, family obligations, etc) in order that alternate arrangements can be made.


Teachers will use a variety of strategies to ensure that students submit their assignments for evaluation and meet timelines. Late and missed assignments for evaluation will also be noted on the report card as part of the evaluation of a studentís development of the learning skills and work habits. When appropriate, a studentís tendency to be late in submitting, or to fail to submit, other assignments (including homework) may also be noted on the report card as part of the evaluation of the studentís development of the learning skills and work habits.

Second Chance Protocol
Based on the premise that the primary purpose of assessment and evaluation is to improve student learning, students will be given additional opportunities to demonstrate their learning if they are not successful on their first attempt. It will be at the teachers discretion and professional opinion on when to exercise this option.